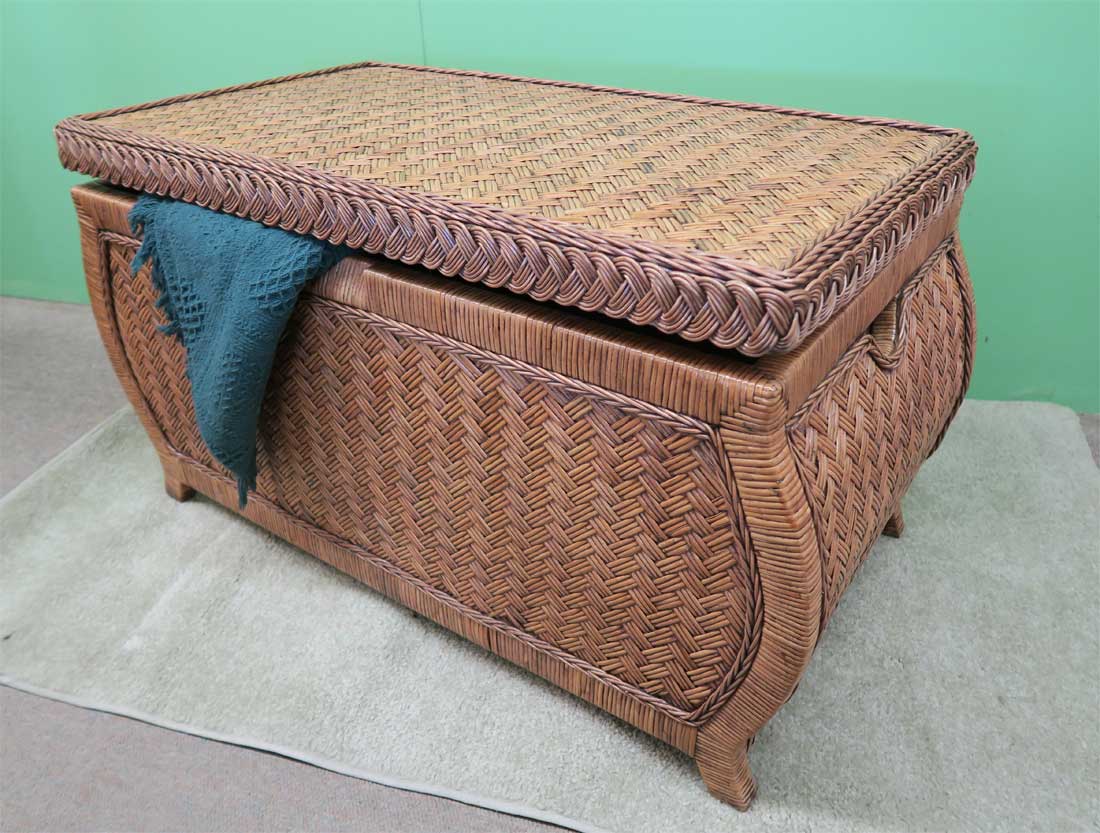 Scroll down to see our Wicker Trunks, perfect for storage.
How we make them.
Quality Construction...our trunks are framed out with mahogany wood. Then the entire trunk is finished & lined with different textures of wood. There are no loose ends of wicker to catch onto what you are storing in them.
Factory Made..No Assembly REQUIRED. Everything is individually handmade in our partner factory in Indonesia using tried & true methods of carpenty. The wood is cut to make the frames. The joints are properly joined & screwed in. These are Quality Wicker Warehouse products. Indonesia is known to have some of the best quality woods & rattan in the world. Combine this with experienced furniture makers and the finished product is really good. VERY IMPORTANT...we are doing this since 1978. We have continuous production that allows us to keep our workers. Always having new workers will cause the quality to flucuate. This keeps our quailty high. Each trunk is individually handmade so while the same styles are all very similar, they all have their own identity and add charm to wherever you use them. They are true pieces of furniture.
The Weaving...After all of the carpentry is done the weaving begins. Different textures of natural rattan are woven & wrapped over the entire exterior of the frame. Please notice the corners of the trunk lids.Look down the legs & on the trunk lids. See how carefully & skillfully the weaving is? Everything is done the right way and you will see that the wicker materials are top notch. We use Indonesian Natural Rattan considered to be the best in the world.
Rear View...in keeping with our quality story please know that we weave & finish the backs of our trunks the same way we do the fronts & sides. We have pictures on iur site showing the rear view.
The finishing & hardware...Now our trunks are ready to be painted White or stained Whitewash, Caramel, Teawash Brown or Coffee Brown. We offer 4 different style White Trunks. The last steps are to attach the hinges that hold the lid on, screw on the hydrolic hinge that helps keep the trunk lid up when you open it, then attach the front latch & both side handles on the trunks that have hasrdware. Finally a plastic glide is placed on the bottom of each leg. You will see the different style trunks & see that some have latches & handles & some do not, but the frames are all made the same way.
We have been specializing in Wicker Products since 1978. Our customers love these trunks and we have them in our homes as well!
Ecco Friendly... all of the rattans & woods are all natural.
Styling....What A Selection! We offer everything from our sleek, straight lined Woodlined Trunks, our Beaded Victorian Trunks, our Bombay Trunks that "belly" out on both ends and our Blanket Chests that can house a cushion. Select your favorite style and color.
Really Strong..While not meant to be a seat they are all strong enough for 2 normal sized people to sit on them. These are truly well made, attractive pieces of furniture. Each trunk weighs about 48 lbs. With normal use you will have these trunks for years to come.
Personal Experience & Life Span..we have a Bombay Trunk at the foot of our bed that we fold the bed spread down onto. We sit on this trunk every morning when we put our socks on. My wife opens it every day as she has some clothing in it. Our trunk has been there since 1990. Still going strong.
What do our customers use them for? Mostly for storage. Shoes, clothes, pocketbooks, blankets or anything else. Some folks tell us they use them as coffee tables in front of their sofas. Do you have good furniture and need something really nice to go with it? You will love our Wicker Storage Trunks and Wicker chests. At the end of your bed, storage in your office or in the hallway. Some keep the grand kids toys in them. We make our Our Blanket Chest with raised sides so that a cushion can nestle in there. This wicker trunk is used for seating & storage in any room. Creating storage space never looked this good!
Our prices include FREE Fed EX Shipping to most locations in the 48 states. Our trunks are packed well. Paper wrapped, bubble wrapped and inserted into a box with cardboard corners for extra protection for the feet and lid. We also place extra packing over ther front latch. We pack 1 trunk to each box. They normally Fed Ex out within 5 business days. When they do we send you an email with a tracking #.