Outdoor Wicker Patio Furniture - Conversation Sets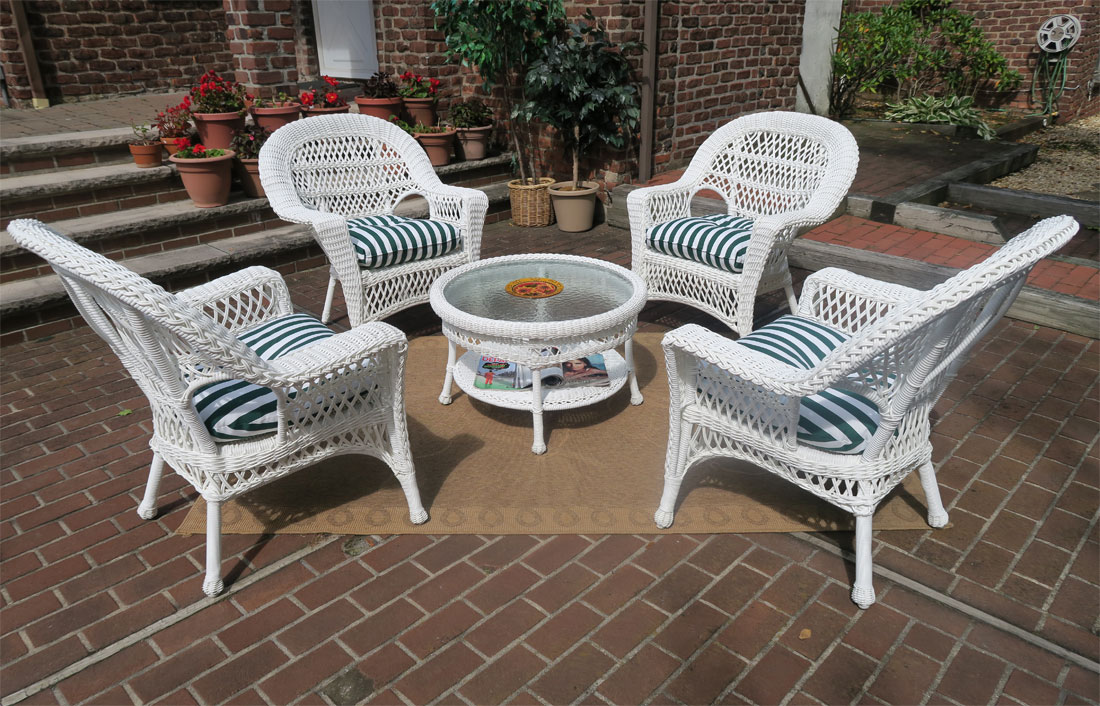 Scroll Down to view our Conversation Sets.
Read more about Resin Wicker Furniture.
Selection...in this area we are showing our 5 Piece Conversation sets featuring 4 chairs around your choice of 2 different size round tables. You can have Your Choice of Chairs going around Your Choice of Tables all at fabulous group prices! First, we picture these sets below with our 24" high, 42" Round Tables. Want a smaller table? We also have an 18" high, 31" Round Cocktail Table. If you would prefer an Oval Cocktail Table we have it. If you would like to put end tables in between the chairs we have them! And look at all of the chair choices. Swivel Chairs, High Back Chairs, Lower backs, even rockers if you want them. We also have lots of full size furniture that houses big thick seat & back cushions. Sofas, Love Seats, Chaise Lounges & anything else you may want.
Quality & Construction...This is quality Resin Wicker Patio Furniture! All of our frames are made of heavy gauge factory welded aluminum. After the frames are shaped & welded they are powder coated (painted & baked) the same color as the exterior wicker will be. After the paint cures the weaving takes place. Synthetic wicker does not grow wild like natural rattan. It is a man made product and there are lots of different qualities. We are using HDPE, high density polyethylene. Google HDPE & read about it. HDPE is a better quality material. The less expensive materials are loaded with plastic. They have shorter lives & tend to dry out & crack more easily. If the weaving is done right all of the beginnings & ends of the wicker are tied off underneath. There has to be begginings & ends but they should out of site.
Fabrics & Cushions...we offer synthetic fabrics that are best for areas wicker normally goes in. Spun Polyester fabrics are very good for indoors & covered outdoor areas. We also offer Sunbrella Fabrics. They are acrylic. They cost more per yard, but are really worth it for outdoor, sunny or moist areas. They are very fade, stain & mildew resitant.
Our Cushions are American Made.
We offer free curbside delivery to most locations in the 48 states. Our deliveries are made in 18 wheeler trucks that must be able to drive onto & away from your delivery address.