Full Size Wicker Furniture Replacement Cushions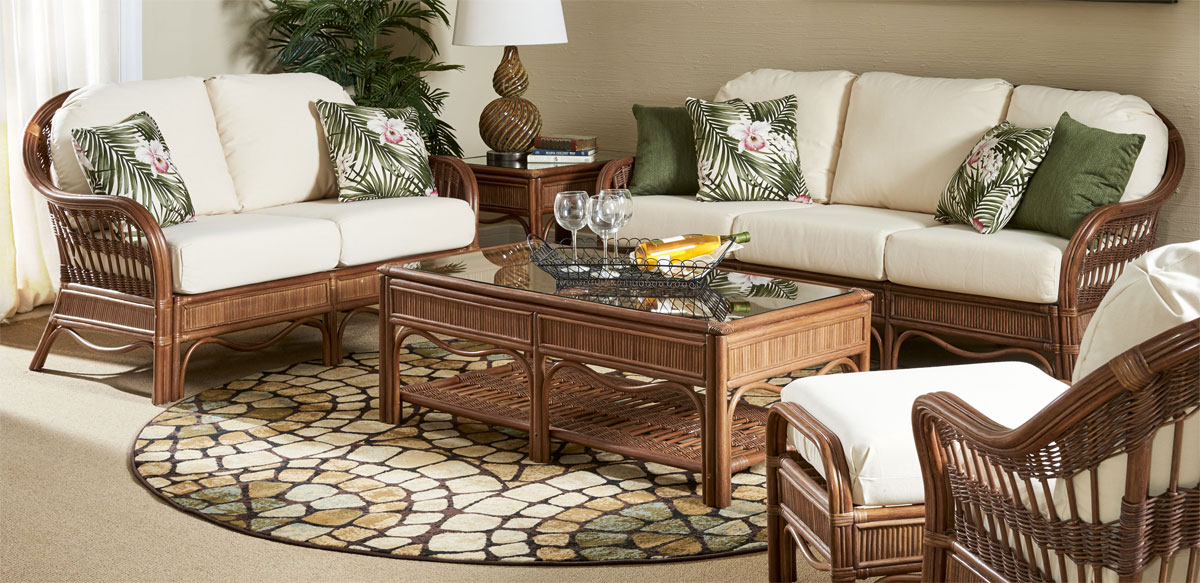 Scroll down to see our full size Wicker Patio Furniture Replacement Cushions.
We are here to help.. we have a step by step procedure to make sure we get the right information from our customers so the cushions come out perfectly. Each cushion is especially made for you in the sizes you give us. We are doing this for many years. Most customers are doing this for the first time. We go over everything with you. When you are comfortable that we have the correct information, then you place your order.
Quality...We make quality full size cushions! And we can make almost size cushion that you want. We fill our seat cushions with a 5" thick block of high densified polyeurthane foam and wrap it--top & bottom-- with 1/4" thick nonporous dacron. Our seat cushions are 5.5" - 6" thick. Our customers have been very pleased with the firmness of our seat cushions. Our back cushions are about 6" thick & filled with 100% Nonporous Polyethylene Fiber. You will comfortably sink into them when you lean back. Both the seat & back cushions are zippered. There are better & lesser grades of quality on everything. We are buying & using good materials.
All of our cushions do very well in moist or damp areas and they will do even better if they are made from Sunbrella Acrylic fabrics. Google Sunbrella Fabrics to read about them. We also offer quality Spun Polyester Fabrics. They do very well indoors or well covered outdoor areas. They will fade in the sunlight & are not as mildew or stain resistant as Sunbrella.
Mildew...When your cushions are wet dirt very easily attaches to them and then the mildew comes. Try placing your cushions on end if the got wet. The more exposure of air the faster they dry. Keep your cushions clean. The cleaner they are the better they look & the longer they last.
Our upholsterer...We have the same upholsterer for over 25 years. You will love our American Made Cushions.
Click on our picture & you will see our Cushion Form. This will give you an idea of our prices & tell you how to measure. Call 1-800-274-8602 Six days a week or email us sales@wickerwarehouse.com we are here to help.
Please allow about 2 weeks to receive your cushions. In peak spring season that can stretch out to 4 weeks. We are able to give you an estimated delivery time when you are placing your order.
Cost..believe it or not it is less expensive to make cushions to order than to make all of the differents sizes & shapes in advance. Just the cost of paying for the space to store them is prohibitive. Not to mention how would we know what fabric to make them up in. Square corners, round corners etc, etc. No way to know in advance & then we would have cushions laying around for months. Premade cushions are usually made overeas. Careful on the quality of these. Stuffing, fabric, stitching..everything. We make you brand new cushions.
Cleaning them...our customers tell us that some dry cleaners are good & some ruin your cushion casings. Same with a washing machine. Personally we have our cushions steam cleaned. Steam cleaners have vacuums that suck the dirt out of the pores of the fabric. Then they should get a spray of Scotch guarding or some other type of fabric protector. When we clean a stain ourselves we push the stain & dirt into the pores of the fabric. Ok for a small ocassional spot, but not good for the long run.
Our prices include free shipping to most locations in the 48 states. We ship most orders via Fed Ex. Larger orders ship via trucker.