Wicker Headboards & Rattan Headboards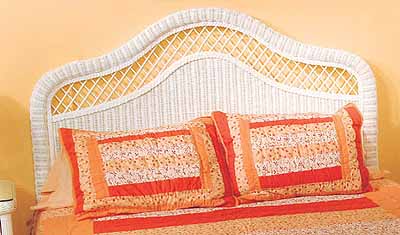 Scroll Down to see lots of styles. Wicker Warehouse specializes in Wicker and Rattan furniture. These wicker & rattan headboards are our own designs & made by our partner factories in Indonesia. We also feature a few from selected suppliers. You can expect very well made quality headboards.
Construction....Wait until you see how well they are made. They are framed out with a very sturdy wooden frame. Then smaller textures of wicker & rattan is woven over them. No skimping on the materials. These are true pieces of furniture. You will love the quality. We took some pictures of the back sides so you can see for yourself. The pictures are on the lower left of the products. Look at the Pavilion style. You will see the heavy mahogany wood frame. You will enjoy these headboards for many years to come. We have some on our beds for over 30 years. Still going strong and looking beautiful.
There is no assembly required. Each headboard is individually made.
Sizes...We offer lots of different designs, frame colors & sizes. We offer twin, full/queen and king sizes. Note that we make one size headboard that attaches to both a queen or full size bed. For a full size bed we place the attachments 3" in on each side as a full size bed is 54" wide & a queen size is 60". We put 1 headboard to a box & they are very well packed & cartoned.
Styling....Contemporary & traditional styles are very popular. We have some that are solid woven and some that have some open lattice work. Some have straight lines and some have very shapely tops. There are lots of of interesting styles & colors to pick from. Please look at all of the work in our Victorian style. Beautiful hand weaving and beads. Our customers asked for this so we made it. Key Largo is also brand new and while all of these styles sell our Pavilion has always been the most popular. Select your favorite and and beautify your bedrooms.
Our prices include FREE CURBSIDE Delivery to most locations in the 48 states. Our deliveries come in 18 wheeler trucks. Our deiveries are made in 18 wheeler trucks that must be able to drive onto & away from your delivery address.