Rattan Chairs and Ottomans | Natural Wicker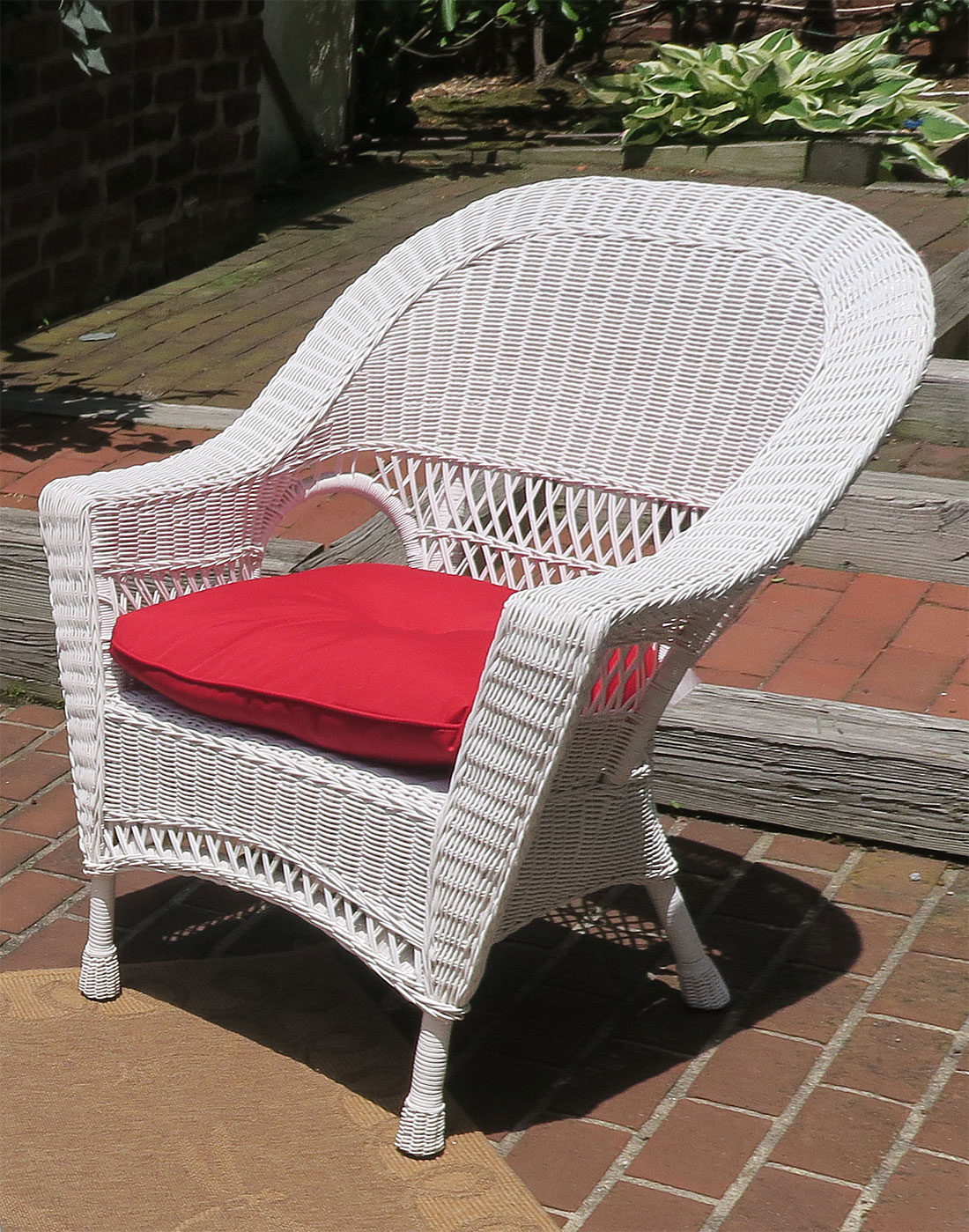 Scroll down to see all of our Wicker & Rattan Chairs.
Construction...Our Natural Rattan Chairs are framed in high quality natural rattan poles. Look closely. You will see that our rattan poles are thicker than most. Our chair frames are really strong. With normal use you will get more than your monies worth. Wicker is not a material. It is a weaving process. When you see smaller textures of rattan that are woven this is what is called wicker. The wicker weaving brings a lot of style & character to our chairs. It allows for many different designs. But the pole rattan frame is key to the overall strenght of our chairs. You will see that even the smaller txtures of rattan, the wicker, is cut down to a thicker size than you might normally see. We use pasta as a reference. We use "linguini" when you will see a lot of "angel hair" out there. The overall quality of our chairs is pretty good!
Styles & Sizes...We offer traditional, Victorian style pieces as well as tropical and modern options. These beautiful chairs are made for the indoors. We have quite a selection. You will see chairs in what we call midsize. By this we mean they house seat cushions only. This size chair are very popular for porches, as dining chairs and as accent chairs in every room. Then we have full size chairs. Meaning the chairs house both seat & back cushions. These chairs can be comfortable just like your living room furniture. Our customers use these chairs throughout the house. Sunrooms, family rooms, dens, finished basements and bedrooms. You will find the right size and style that works for you.
Cushions & Fabrics...our fabrics come from the best American Fabric Mills & are all American Made. We have the same upholsterer for over 25 years and we only use suppliers that offer Quality American Made Cushions.
Buying Tip..there is so much to know about the furniture you are buying. Call the people you are thinking of buying from. Ask then questions about their products. You will be able to judge by their answers what products you may want to buy or not buy.
Life expectancy..with normal use & care you will have this furniture a long time. Doing this since 1978 we have lots of customers that we are making new cushions for that have had their furniture for 10 to 20 years. You will get your monies worth.

We offer Free Curbside Shipping to most locations in the 48 states. Our deliveries are made in 18 wheeler trucks that must be able to drive onto & away from your delivery address.