Outdoor Resin Wicker Dining Chairs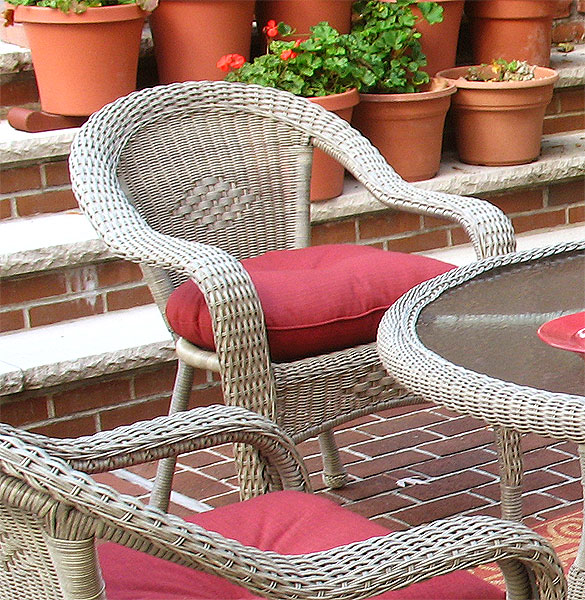 Scroll Down to see them all.
Read more about Resin Wicker Furniture.
At Wicker warehouse we provide many options that help elevate and enhance your dining and entertaining experience. Our light weight factory welded alumninum framed resin wicker dining chairs are made with Quality--HDPE--high density polyethylene Resin Wicker which is durable and is easy to clean and maintain. All of our chairs are stackable. This helps you store and save space at the same time.
Value...please look at the chairs below. We sell lots of all of these chairs. All of our chairs are value priced. See how the 1st two chairs are more expensive than the others. The arms are wider, there is more weaving, it takes more alumiunum to make the frames and they house nice size American Made Cushions. It costs more to make these chairs.
Comfort...all of our chairs are contoured so the amount of distance from the floor to the top of the seat cushion in the front is higher than it is in the back. This causes you to lean back a little when you sit. These are not chairs to nap in, but are pretty good for dining & occassional sitting.
Prices...We have "Buy More & Save More Prices". Take a look and experience extra savings.
Commercial use..we have had lots of restaurants & country clubs use our chairs over the years. They all seem to get their monies worth. Tip--because they are stackable if your staff is stacking them & resetting them every day watch them. They may be tired & in a rush to go at the end of the day.
Enjoy Free Curbside delivery to most locations the 48 states. Our deliveries are made in an 18 wheeler truck that must be able to drive onto & away from your delivery address.
View all of our Wicker Dining Chairs below.