Wicker Trunks, Blanket Chest with Seating (Cushion separate purchase-below) Caramel
Special Price
$399.95
Regular Price
$449.00
We Accept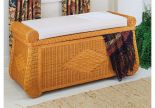 Wicker Trunks, Blanket Chest with Seating (Cushion separate purchase-below) Caramel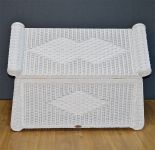 REAR VIEW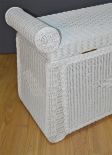 CORNER VIEW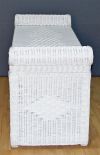 SIDE VIEW
Shown in Caramel.
also Available in White & Teawash.

41.5" x 17", Ht. 22 1/2
Our Blanket Chests are framed out with mahogany wood. Then lined with lewon--a thinner smoother wood so the insides have a really nice finished look. Different textures of wicker are then hand woven over the outside to create a beautiful look. The shape is interesting and the lid is made so it can house a cushion. Look at the work going down the legs on the left and right hand sides. The lid also has a hydrolic hinge on it to help keep it open. Our very sturdy mahogany frame combined with a cushion make our chest not only for storage, but for sitting as well. Look at the picture on the left hand side. It shows the inside of our Woodlined Trunks. Our Blanket Chest is made the same way. They weigh about 48 lbs each. This is quality natural wicker furniture and 100% handmade.
The cushion....you may want to order our cushion. It nestles right in the chest lid and not only makes for a nice seat, but looks great too!.
We offer Free Fed Ex Shipping to most location's in the 48 states.
You may also be interested in the following product(s)