Outdoor Resin Wicker Chaise Lounges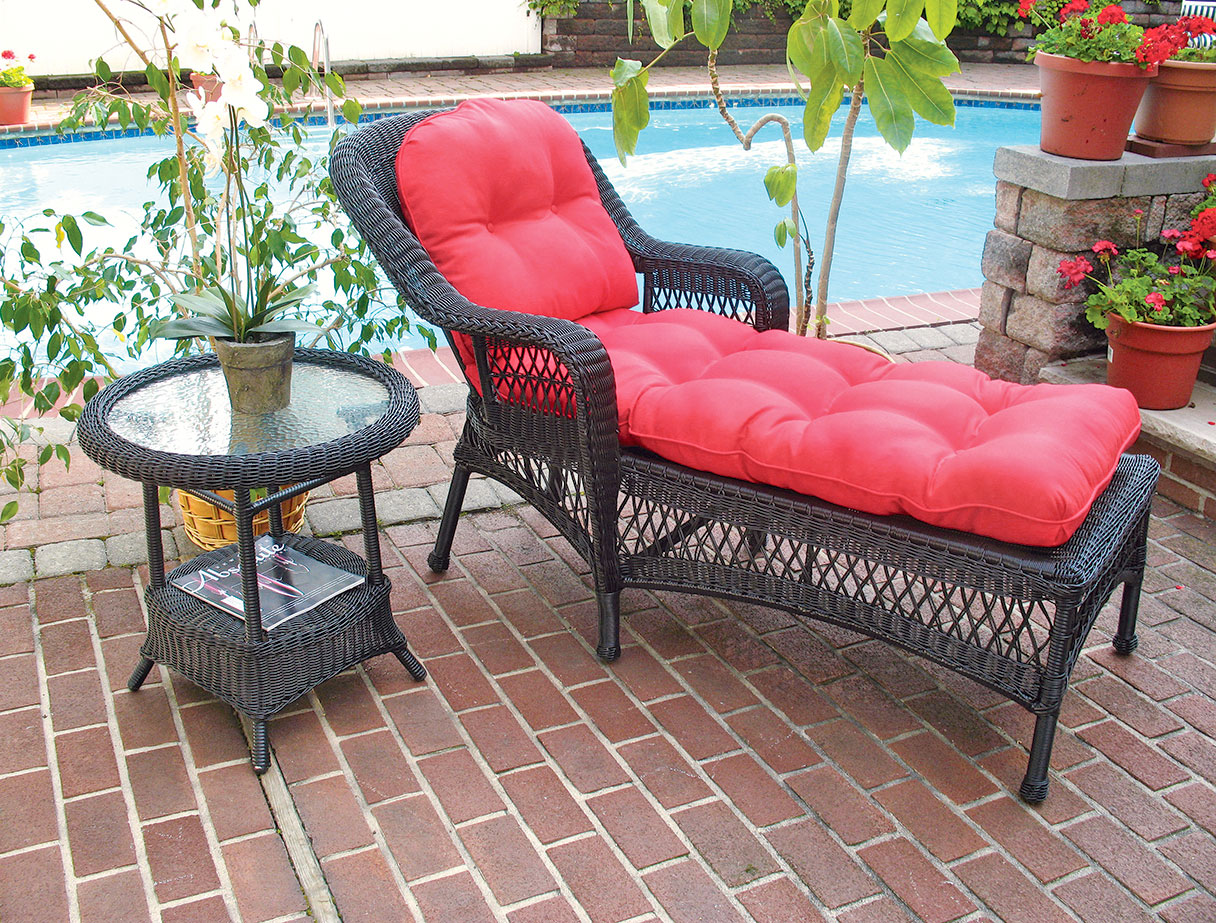 Scroll down to see our Chaise Lounges.
Read more about Resin Wicker Furniture.

Construction...First we must tell you about the quality. Our Resin Wicker Chaise Lounges are all made from heavy gauge Factory Welded Aluminum. They are made to be used indoors or outdoors. There is no asembly required. The synthetic wicker that is hand woven & hand tied over the frames is HDPE--high density polyethylene. HDPE is a better grade of resin.You can google this to read about it as there are many different levels of quality in man made synthetic wicker. Each strand of wicker has a beginning & an end. Better quality products hide most of the ends underneath & in locations that are not easily seen, but remember each & every piece of furniture is hand woven by a human being. You may see the beginning or end of the weave.They all have their own character. This is part of the beauty of hand made wicker furniture. They are not machine made. No two chaises or any furniture will be 100% like the other. Enjoy the beauty of the hand & be amazed at the skills required to come up with a finished product.
Seat Heights--there is a standard height from the floor to the top of the seat cushion. It is about 20". The height from the floor to the top of the arms is also a standard. They are about 26". Then the overall height is listed by each style.
Frame Colors..we offer lots of colors. After the aluminum frames are made they are painted the same color that the exterior wicker will be. The frames are then baked so the paint is very chip resistant. Then the weavers do their job of weaving the synthetic wicker over the frames and you have a beautiful chaise made the right way. Continue to read about our cushions.
Fabrics & Cushions..Each Chaise includes both a long seat cushion and a back cushion. Our American Made Cushions are top notch also. They are made from 2 types of synthetic materials. We offer about 40 different Spun Polyester Fabrics all at the same price & lots of different Sunbrella Fabrics. Spun Polyester fabrics are good for indoors or covered outdoor areas. They will fade in sunlight. The color is applied to Spun Polyester Fabrics via a silk screening process. This means the beautiful colors and florals you see only have dye on the top side of the fabric. You will get a good wear from them but again, they will fade in sunlight. FYI--Sunbrella actually dyes each & every thread of fabric BEFORE they weave it into yards. Each thread gets soaked & coated in a "dyed solution process"so they become very fade, stain & mildew resistant. Sunbrella also adds a large amount of UV Protectors to their solution. Sunbrella offers lots of fabrics. The prices per yard will vary. If you want a Sunbrella fabric that we are not stocking in most cases we can order it for you. If the fabric is in stock we receive it in 5-10 business days. We do not make fabric. We buy it from the fabric mills. Ask us anything. We are doing this since 1978 and are happy to please you if we can.
Classic styling combined with quality materials make for a really good product. Our Bel Aire Resin Wicker Chaise Lounges are the most popular. We offer them in 5 colors. They have 6 legs and 5" wide arms. They have stationary backs that are made angling back a little. Most people find them very comfortable. They create a really nice look wherever you put them. For areas with less space selecting a chair & ottoman will allow you to put your feet up as well.
Where to use them...where ever you want. Their aluminum frame and synthetic wicker allow them to be used outdoors, indoors, porches, ptios, family rooms & bedrooms. If you are using them in outdoor areas we suggest you have us make your cushions from Sunbrella Fabric.
Great Prices..we discount everything, but when order more than one chaise we offer "Buy More Save More Prices". Our discounted prices shown below are when you buy one Chaise. If you buy 2, 3 or 4 the prices go down even further. Just click on the pictures of your choice. FYI--when the order is larger we pay proportionately less shipping costs per item. We pass those savings onto you our customers. This is another reason why we are here since 1978.
FREE CURBSIDE Shipping to Most Locations. Our deliveries are made in 18 wheeler trucks that must be able to drive onto & away from your delivery address.
As low as

$849.95

Regular Price

$949.00

As low as

$849.95

Regular Price

$949.00

As low as

$849.95

Regular Price

$949.00

As low as

$849.95

Regular Price

$949.00

As low as

$849.95

Regular Price

$949.00

As low as

$1,249.00

Regular Price

$1,399.00

As low as

$2,935.00

Regular Price

$3,261.00

As low as

$4,753.00

Regular Price

$5,281.00

As low as

$2,901.00

Regular Price

$3,224.00

As low as

$2,591.00

Regular Price

$2,879.00

As low as

$3,613.00

Regular Price

$4,014.00