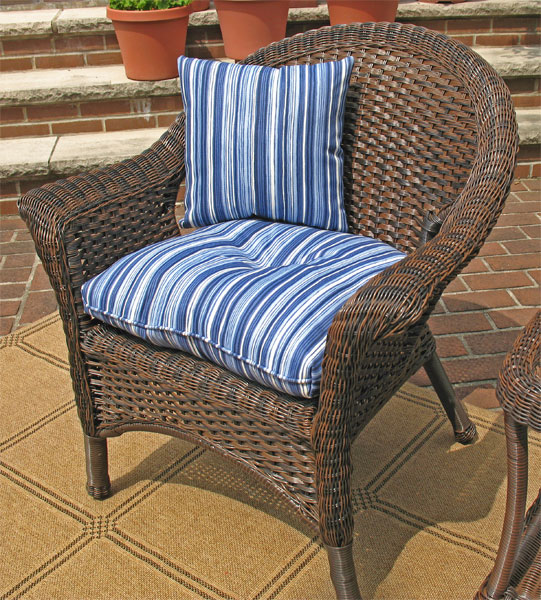 Scroll down to see a large selection.
Read more about Resin Wicker Furniture.
Our Outdoor Resin Wicker Chairs and Ottomans are sure to please you. We offer chairs with that house seat cushions only. We call these midsize. The frames are made wide enough & deep enough to house seat cushions only. If you put a back cushion on them most peoiple will sit too far foward. Shorter people may like to place a throw pillow behind them. We have larger, full sized chairs that house both seat & back cushions. The larger chairs are considered Lounge Chairs. We also have glider chairs, rocking chairs, dining chairs & most every other kind if chair.
Construction...Our frames are all made from Heavy Gauge, Factory Welded Aluminum--NO ASSEMBLY REQUIRED. We weave quality resin wicker--HDPE--high density polyethylene over the outside of the frames. HDPE is a better quality resin. You can google HDPE to read about it. Before the weaving starts the aluminum frames are painted & baked a very similar color to what the synthetic wicker will be. This is called powder coating. The makes the aluminum frames very chip resistant. This painting provides a nice back ground for the synthetic wicker so that no "funny" colors show through.
Weight testing..we find the numbers we see on different sites are there just so the seller covers themselves. How do they weight test---do they have a 200lb person sit for a month--then a 250lb person & onward until they break? Our furniture is built the right way and we do not have problems like that. Large people know their chairs may have a shorter life span than smaller people. If a 200 lb person sits normally the chair will have a long life. If a 200lb person "drops" their weight into the chair when they sit the chair will feel as if it has maybe 400-500 lbs in it. That will shorten the life. We have had zero problems in this area. Sit normally with a little respect for your furniture and you will get more than your monies worth.
Heights...the height from the floor to the top of the seat cushion is about 19". This is a standard. Much higher or lower will not allow for comfort. From the floor to the top of the arms is about 26". The overall heights are listed by each chair.
Fabrics...We offer about 40 different Spun Polyester (SP) Fabrics all at the same price. If your wicker chairs will be in a sunny area we offer lots (about 90) different Sunbrella Fabrics. Sunbrella Fabrics cost more $ per yard, but are well worth it over the long run. And we have matching wicker ottomans as well.
Fabric Knowledge..both our Spun Polyester Fabrics & our Sunbrella Fabrics are made from synthetic materials that do not accept dye like a regular cotton fabric. Both of these nonporous materials do well in areas that wicker furniture is used. The difference. We do not make fabric. We buy it from the fabric mills.
For Spun Polyester Fabrics the mills weave a minimun of 3000 yards of plain fabric. No color on it. Then they do what is called a silk screening process where the dye sets on top of the fabric. They are able to Floral patterns on like this, BUT the color is only on top of the fabric. It does not go through to the other side. You will get a good wear from this fabric, but if exposed to sunlight ( depends on how much) after 6, 9 or maybe 15 months the colors will begin to fade.
Sunbrella Fabrics.. they take each & every thread of fabric BEFORE they weave it into yards and soak it in what is called a "dyed solution process". Each & every thread of fabric gets coated with the color. This process creates very fade, stain & mildew resistant fabrics. Sunbrella Fabrics are very popular for outdoor awnings, boats and wicker furniture. It costs more $ per yard now, but over time we feel it may actually become less expensive. Our Sunbrella Fabrics are all solids or stripes.
We give you more...the seat areas of most wicker chairs are 18" x 18". We made ours about 19.5 " wide x 21.5" deep--and for small areas our Veranda Chair seat areas are about 19" wide x 20" deep. The larger than normal seat areas make for more comfortable sitting. You will also 'feel" the strength of our chairs from the factory welding of the frames.
All of this and we offer Free Curbside Shipping to most locations in the 48 states. Our deliveries are made in 18 wheeler trucks that must be able to drive onto & away from your delivery address.