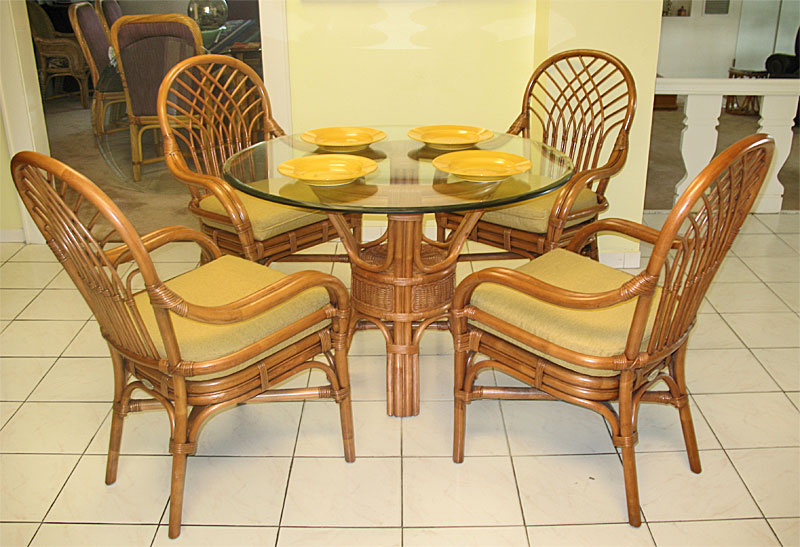 Scroll down to see our fabulous collections.
Welcome to our Natural Rattan Dining Sets. These are quality sets made from top of the line Indonesian Rattan. There is lots to select from. Dining Side Chairs, Arm Chairs & Chairs with Casters. Lots different frame colors and lots of fabrics.
Exclusive Designs..we feature 3 different style dining chairs. Savannah, Coronado & Florentine. They house the same size seat cushions. These chairs are made very much the same way except for the design on the chair backs. These are Wicker Warehouse Designs all individually handmade by our partner factories in Indonesia.
Selection...We offer dining side chairs and arm chairs. You can have any quantity of either or both. We make these sets in Teawash Brown. White & Whitewash.
How we make them..please notice the amount of rattan and the thickness of the poles we use. We make really strong table bases using lots of broom handle size pole rattan. Our Savannah, Florentine & Coronado Dining Sets feature 3 different sizes of round glass tops, 36" 42" & 48" so you can select which size works for the amount of people you want to accommodate.
Glass Tops... we use 1/2" thick glass tops with a 1" bevel for these sets.
Cushions---the chairs for these 3 sets are zippered and each house a 3" thick piece of densified polyurethane foam that has a dacron wrap on it. These cushions are about 18" wide by 19" deep. The cushions on these 3 sets are reversable. With your care they will last longer.
Quality---the combination of these things creates really good dining sets.
This furniture must go indoors or very well covered outdoor areas. We offer personal service. Take a look, decide which style set is best for you. We are here 6 days a week answering questions & helping anyway we can. We are happy to hear from you. 1-800-274-8602 press 0 Six Days a Week
We offer FREE CURBSIDE Delivery to Most Locations in the 48 states. Deliveries are made in 18 wheeler trucks. Our deliveries are made in 18 wheeler trucks that must be able to drive onto & away from your delivery address. Ask about having your dining set carried in & setup in your home. There is a separate charge for this additional service.
Be sure to CLICK HERE to visit our Wicker Dining Sets.
Click here to see Rattan Dining Chairs only.
As low as

$899.00

Regular Price

$999.00

As low as

$949.00

Regular Price

$1,049.00

As low as

$1,399.00

Regular Price

$1,549.00

As low as

$1,399.00

Regular Price

$1,549.00

As low as

$1,449.00

Regular Price

$1,599.00

As low as

$1,499.00

Regular Price

$1,669.00

As low as

$1,449.00

Regular Price

$1,599.00

As low as

$1,499.00

Regular Price

$1,669.00

As low as

$1,539.00

Regular Price

$1,699.00

As low as

$1,399.00

Regular Price

$1,549.00

As low as

$1,449.00

Regular Price

$1,599.00

As low as

$1,499.00

Regular Price

$1,669.00

As low as

$1,449.00

Regular Price

$1,599.00

As low as

$1,499.00

Regular Price

$1,669.00

As low as

$1,539.00

Regular Price

$1,699.00

As low as

$899.00

Regular Price

$999.00

As low as

$949.00

Regular Price

$1,049.00

As low as

$1,359.00

Regular Price

$1,495.00

As low as

$1,399.00

Regular Price

$1,549.00

As low as

$1,439.00

Regular Price

$1,585.00

As low as

$1,399.00

Regular Price

$1,549.00

As low as

$1,449.00

Regular Price

$1,599.00

As low as

$1,499.00

Regular Price

$1,669.00

As low as

$1,449.00

Regular Price

$1,599.00

As low as

$1,499.00

Regular Price

$1,669.00

As low as

$1,539.00

Regular Price

$1,699.00

As low as

$899.00

Regular Price

$999.00

As low as

$949.00

Regular Price

$1,049.00

As low as

$1,399.00

Regular Price

$1,549.00

As low as

$1,449.00

Regular Price

$1,599.00

As low as

$1,399.00

Regular Price

$1,549.00

As low as

$1,499.00

Regular Price

$1,669.00

As low as

$1,449.00

Regular Price

$1,599.00

As low as

$1,499.00

Regular Price

$1,669.00

As low as

$1,539.00

Regular Price

$1,699.00

As low as

$949.00

Regular Price

$1,049.00

As low as

$1,449.00

Regular Price

$1,599.00

As low as

$1,499.00

Regular Price

$1,669.00

As low as

$1,539.00

Regular Price

$1,699.00

Special Price

$299.95

Regular Price

$330.00

Special Price

$299.95

Regular Price

$330.00

Special Price

$599.95

Regular Price

$660.00

Special Price

$599.95

Regular Price

$660.00

As low as

$3,149.00

Regular Price

$3,499.00

As low as

$1,649.95

Regular Price

$1,849.00

As low as

$1,799.95

Regular Price

$1,999.00

As low as

$2,549.00

Regular Price

$2,799.00

As low as

$2,349.00

Regular Price

$2,799.00

As low as

$2,699.00

Regular Price

$2,999.00

As low as

$2,849.00

Regular Price

$3,149.00

As low as

$3,999.00

Regular Price

$4,449.00