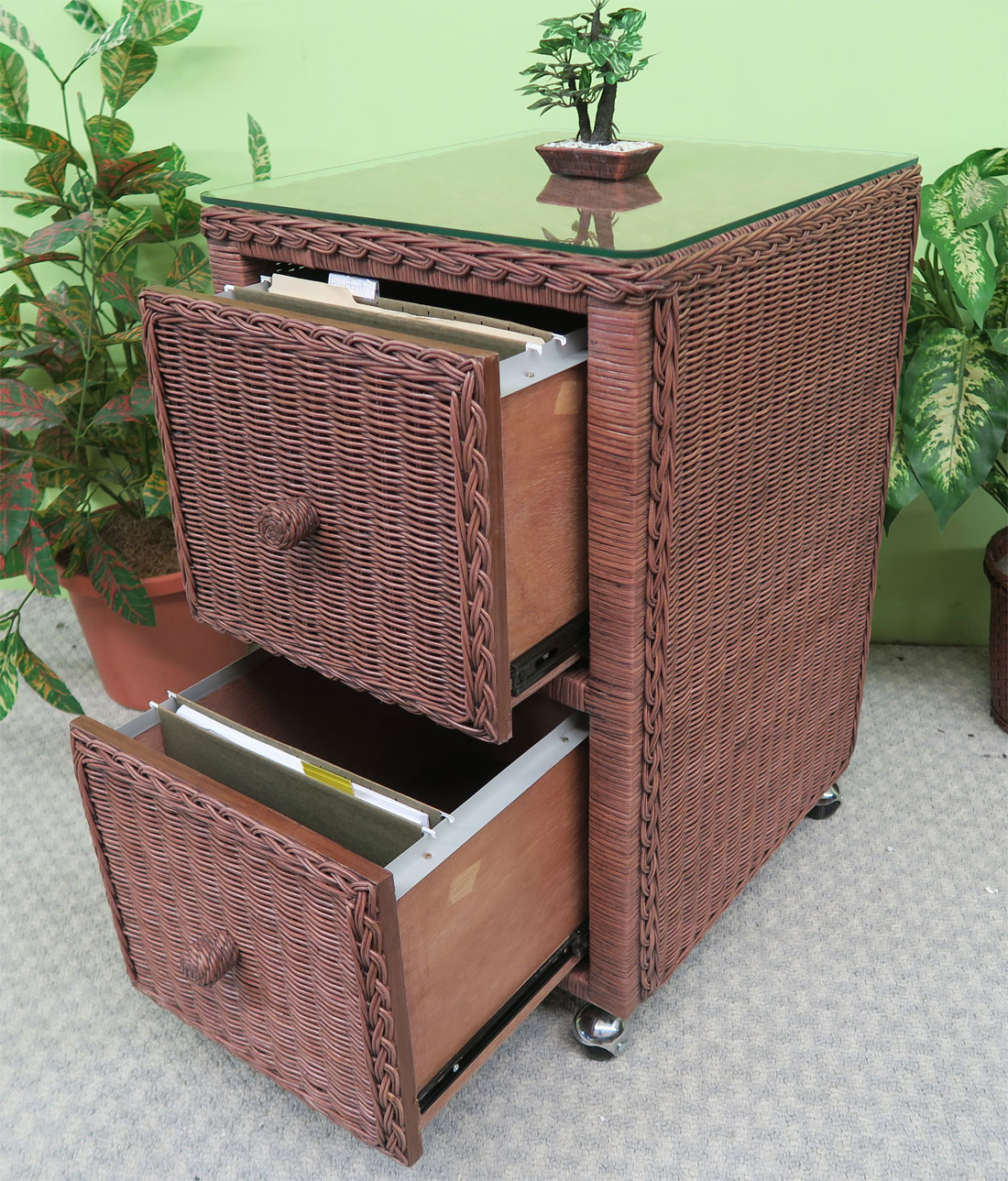 Scroll down to see our fabulous Wicker File Cabinets. We make them in 4 colors. We make them in White, Teawash Brown, Caramel & Whitewash. The ladies here say Teawash is kind of a "milk chocolate color and Caramel is a lighter kind of "Golden" color. Just click on the picture to enlarge it & see all 4 colors. This is a real piece of furniture that is very sturdy. They weigh about 50 lbs. They are "good looking" & will enhance any area you put them in.
Glass Tops..we reccommend ordering a glass top( $29) . Glass creates a flat surface over the wicker weave and protects the wicker when you place things on top. It also prevents dust from gathering in the wicker weave. Glass is a good idea.
Quality Construction....the frame is made of mahogany wood. and everything is lined with different textures of wood. Each file cabinet has a smooth, finished interior. After the carpentry to make the frames are done our weavers then wrap & weave smaller textures of rattan over the frame. We install heavy duty drawer glides on each side of the drawer. When the file cabinets are full there is a lot of weight in each drawer. Quality drawer glides are a must. There is a caster (wheel) that gets screwed into the bottom of each leg. We predrill the screw holes so it it easy for you to put the screws in. Each caster gets 4 screws that are included. If we put the wheels on here with the wheels protruding from the bottom they can be damaged during the delivery process. Same thing with the drawer pulls. We put them on the inside of each drawer. Just invert them & you are all set. Each drawer pull has a fitting in the center of it. There is a long screw that holds it place. Our file cabinets are made the right way. You will love our file cabinets.
Life Span..with normal care & use you will enjoy your file cabinets for years to come.
Shipping---our prices include free Fed Ex shipping to most locations in the 48 states.
Special Price

$299.95

Regular Price

$349.95

Special Price

$299.95

Regular Price

$349.95

Special Price

$299.95

Regular Price

$349.95

Special Price

$299.95

Regular Price

$349.95