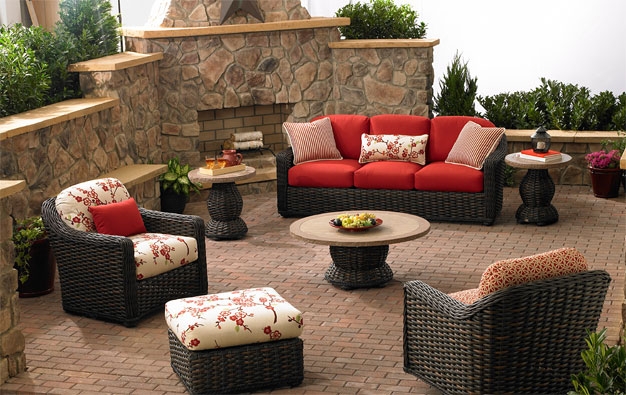 Lane Venture Wicker Furniture, Lane Replacement Cushions
Wicker Warehouse: is happy to also offer Lane Venture wicker furniture. Lane Venture is known for its unique designs and outdoor wicker furniture sets. Besides beautiful new furniture you can also purchase Lane Venture replacement cushions for a set you already have.
Long time partner..we have been representing and selling Lane Wicker Furniture since 1990. You will find our staff knowlegdable.
Replacement Cushions for Lane Furniture..you can expect quality furniture from Lane. Our customers order new cushions from us all of the time as they receive a good long life from their frames.
Fabrics...there is a large selection of Quality Sunbrella & Outdura Fabrics. Some fabrics cost more or lesss per yard. Our staff is very experienced and will assist you any way we can.
Prices.. like most national Manufacturers Lane has manufacturers suggested selling prices. They are pretty high so we offer a really nice discount. Call us for a price quote. You will like our prices and our service. We have been selling and representing Lane Venture Wicker for over 25 years.
Besides quality furniture Lane is always offering new designs. We have put a link below that goes directly to their website. There are a few steps to get to it.
How to get to Lane`s Web Site. Follow the steps below.
Lane shows 2 pictures on their link below. In between the two pictures it says--Click/Tap to Expand. Click on that---On the left hand side in the 1st picture there is a Menu Bar. Hover your mouse over...Furniture... A tab will come up that says--Click to View Full Screen. Click on that----then on the bottom left of the screen a thin black link will appear, it says---View More Click Here---click on that.....you are now there. We know it is crazy, but this is their site & there is lots to see.
Click Here To View Lanes Fabric Selection.