Wicker Storage Trunk Bombay Coffee Woodlined
Special Price
$359.95
Regular Price
$399.00
We Accept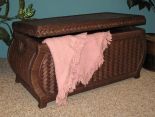 COFFEE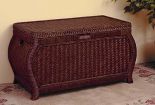 Wicker Storage Trunk Bombay Coffee Woodlined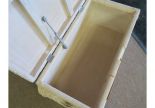 INSIDE WITH PNEUMATIC LIFTER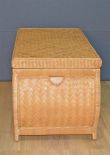 SIDE VIEW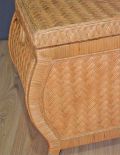 CORNER VIEW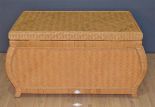 REAR VIEW
Shown in Coffee...also Available in White, Teawash, White Wash and Caramel. 39" x 20", Ht. 20"
These trunks ..are Wicker Warehouse products designed by us & made by our long time partner factory.
Construction...Our Bombay Trunks have a very strong mahogany wood frame with different textures of wicker hand woven over it. This is a very well made trunk. While not meant to be a seat it is strong enough for 2 people to sit on.
Styling...This is a very interesting design. Take a close look at the sides of the trunk where they "belly" out a little. We build a very strong structure there so our trunk maintains its shape. All of our trunks lids have an hydrolic hinge on them that help keep the lids upright while open. This is a 100% handmade quality natural wicker trunk that will mix nicely & add character to any of your beautiful furniture.
The Weaving...please notice the quality of the weaving. There are no protruding pieces of wicker on the inside or outside of the trunk. Your trunk will stay like this for a long time. Please notice the beautiful braided weave outlining the trunk lid. You will really get your monies worth.
Side Handles..please note that we have "handle cutouts" on each side of our trunks. Towards the top. Just under the lids.
We offer Free Fed Ex Shipping to most locations in the 48 states. Ships in a few days.
-