Sunbrella Wicker Furniture Replacement Cushions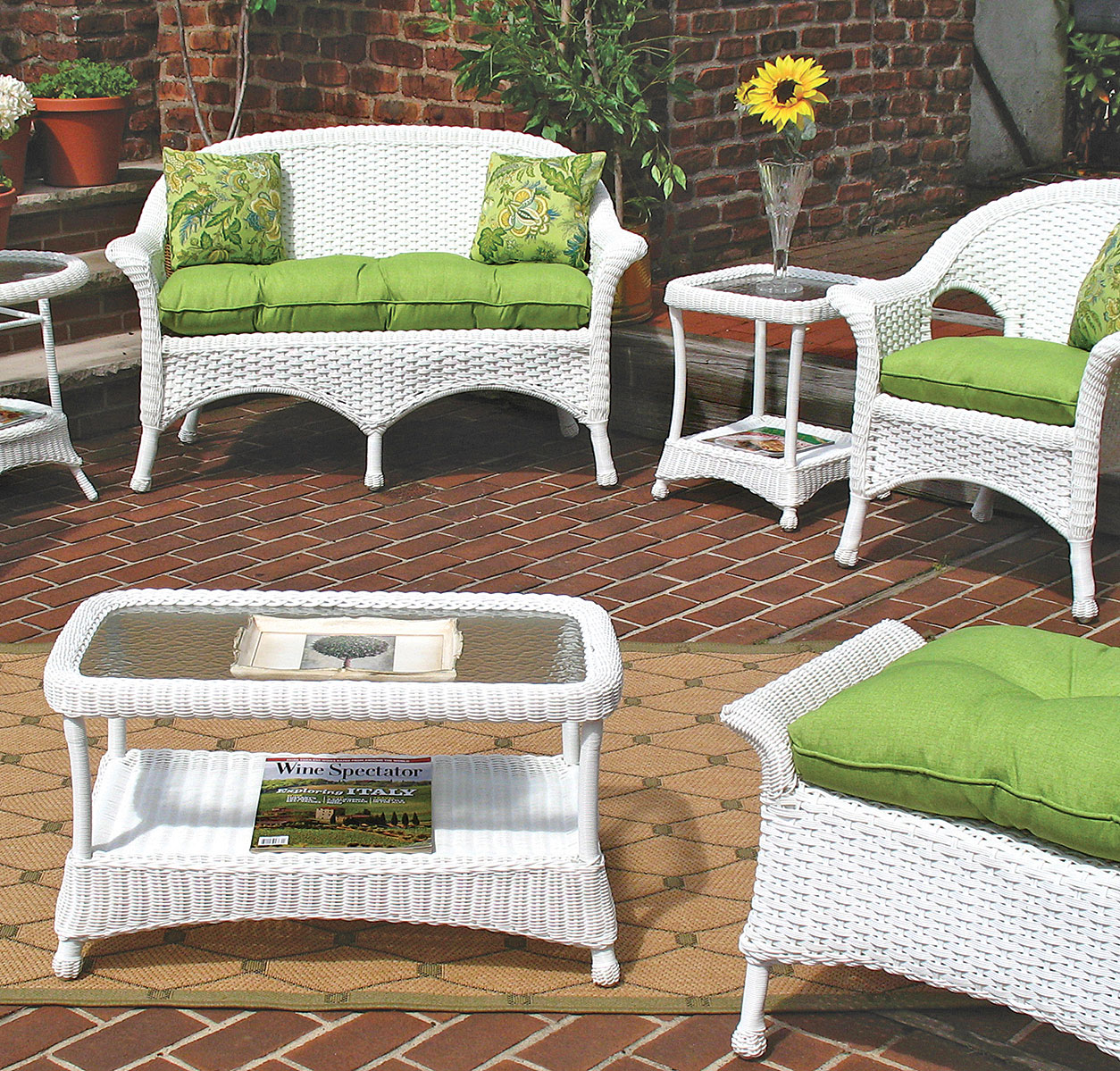 About Sunbrella Fabrics. Sunbrella fabrics costs a little more $ per yard, but worth it for sunny areas. Cushions made with Sunbrella Fabric are known for their fade, stain, and mildew resistance. We offer a lot of Sunbrella Fabrics.
Click Here For Sunbrella Fabric 5 Year Warranty Information
Important..we stock about 90 different Sunbrella Fabrics. Most are in stock. We are noticing that when we are running short of a fabric & try ordering more instead of the normal delivery time of 1 week they are taking 3-6 weeks. We are experiencing this with about 12 fabrics & growing now. This is a combination of very high demand and covid. Hang in there we will get to each & every order.
Very important...Sunbrella closed their production down for 2 months around late March to late May. They are behind in making fabrics. EG--We order a fabric. They give us a date and we share that with you. Then they update us that it will 3 weeks longer. This is normal now with lots of supplies. INTERESTING--for health reasons & to follow the law workers must be kept at least 6 feet apart. That means less workers can work in the fabric cutting room. It is taking longer than normal to make cushions. We do our best to provide accurate information. We need your understanding & patience. We are not new at this. Times are very challenging now.
Very Important...Sunbrella closed their factory for April & May. We all know why. We have a large inventory of their fabrics, but when we run out it is taking much longer to receive new orders. Our cushion division was closedby law for 10 weeks also. Doing everything we can. We want our customers to understand what is going on. Thank you for being patient & bearing with us.
Why Sunbrella is so good...Sunbrella Fabrics are an acrylic material that goes through a Dyed Solution process. That means that each & every strand of material is soaked in dye BEFORE it is woven into yards of fabric. The dye coats each & every thread of fabric. This process has been very sucessful . Outdoor awnings, boat materials & of course cushions for outdoor wicker furniture do very well .We stock a lot of Sunbrella Fabrics , but if you want a fabric that we do not stock we can & will order almost any fabric from Sunbrella. It takes about 5 extra business days to receive it. Sunbrella has lots of fabrics that cost more or less $ per yard so your prices can vary some.
We make our cushions to order. Deep seated or any other size. Fyi--it costs less to make cushions to order than making all of the colors, sizes & shapes in advance. Just storing them would be cost prohibitive.
Not cancelable or returnable...these are made to order for you. Please be sure you know what you want.
Time frame...We make chair & love seat cushions only in both our Popular & Bel Aire style & sizes with Sunbrella Fabric to order. Please allow 2 -5 weeks for delivery depending on how many orders we have. April through June is are our busiest time. We keep you informed.
Quality workmanship...FYI--in order to provide a quality cushion we need trained, skilled workers. We cannot hire a few extra people during the busy season. Quality would suffer.
For questions please call us 1-800-274-8602 press 0...Six days a week or email us....sales@wickerwarehouse.com....we are here to help you.