Palm Springs Resin Wicker Chair
As low as
$899.95
Regular Price
$999.00
We Accept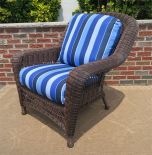 ANTIQUE BROWN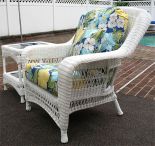 WHITE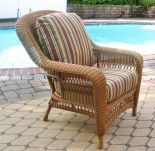 GOLDEN HONEY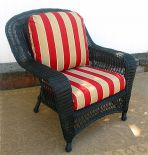 BLACK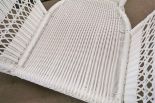 CHAIR SEAT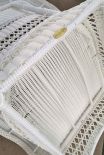 CHAIR BOTTOM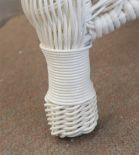 WOVEN LEG DESIGN
Palm Springs Outdoor Resin Wicker Chair...
37" X 38 1/2", Ht. 40"
Our Palm Springs Resin Wicker Furniture frames all have Heavy Gauge Factory Welded Powder Coated Aluminum Frames. No steel. No rusting. No Assembly Required. Powder coating is a painting process that bakes the paint on & makes it very chip resistant. The paint color is very close to what color the synthetic wicker will be.
Our Synthetic Wicker...is quality HDPE--high density polyethylene woven over our frames. Google--HDPE-- and read about it. It is one of the better materials. Synthetic wicker is a man made product. There are lots of different qualities a furniture make can buy to use on their furniture. Many on liners & big box stores are fighting to offer the lowest prices. Very often quality suffers & you learn about it 1, 2 or 3 years later.
Quality Construction..please look at the pictures on the lower right hand side. You will see how we make our seat areas. Our chair seats are all woven wicke with shaped aluminum poles underneath them for strentgth & comfort. No straps. No sagging. They are full size and made to last. Deep seats, high backs & wide arms (also pictured) make for a comfortable quality product.
We give you more Size & Comfort....check the measurements. If you want a full size Chair (37" wide) deep seated ( 38.5" deep) and high backed (40"high ) we have it for you. It costs a little more to make the larger frames and the larger cushions, but you will be comfortable. Our seat cushions are 26" deep. We make them so they over hang the front of the frame a little. This means the back of your legs will rest against cushion not frames.
Fabrics..Our Cushions are all American Made. We offer over 40 different Spun Polyester Fabrics all at the same price. They are very good for indoors & well covered outdoor areas. They will slowly fade in sunlight. We also offer over about 90 different Sunbrella Fabrics. Sunbrella Fabrics cost more $ per yard as they are known to be amongst the most fade, mildew & stain resistant. You will see the the additional costs when selecting your Sunbrella Fabrics.
Why Sunbrella Fabrics cost more..Sunbrella dyes each & every thread of fabric in a "dyed solution process" BEFORE they weave it into yards. This coats & soaks the color onto every thread. This is why outdoor awnings, materials on boats & outdoor furniture cushions made with Sunbrella Fabrics are a very popular choice.
Please know that our Bel Aire Collection is an exact design match to our Full Size Palm Springs Collection. You can mix & match any of the pieces from both collections. Bel Aire is just a smaller version that just houses seat cushions. Not full size seats & back cushions like Palm Springs. Many customers buy a Full Size Palm Springs Love Seat with our smaller Bel Aire Chairs & Rockers. Many people use our Bel Aire Rocker with our Palm Springs Seating. Call us, we will make a Group Price Special for you! 1-800-274-8602. To view our Bel Aire Collection go to our Blue Menu Bar--Outdoor Wicker Furniture & click on --Mid-Size Seating. Call us with questions. That is why we are here.
We offer Free Curbside Shipping to Most Locations in the 48 states. Our deliveries are made in 18 wheeler trucks that must be able to drive onto & away from your delivery location.