Antique Brown Palm Springs Outdoor Resin Wicker Furniture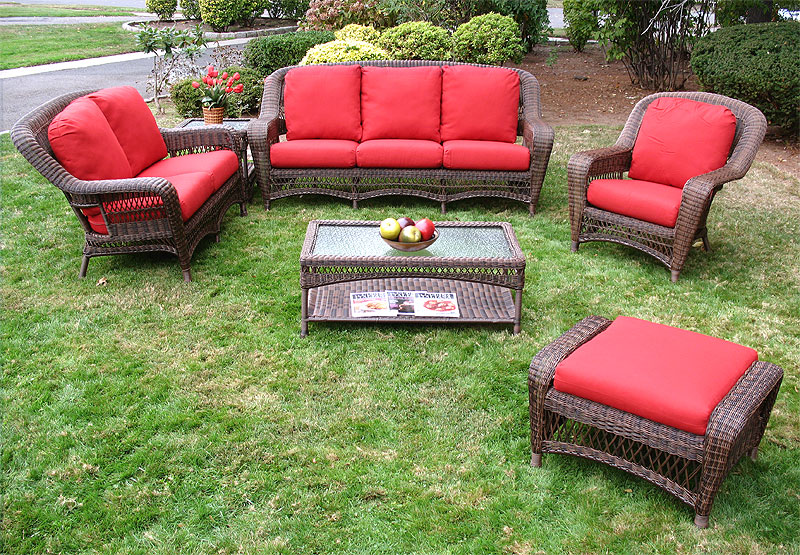 Scroll Down to view our Fabulous Group Priced Specials or Make your own group. Buy 4 or more pieces & take an extra 10% off.
Construction...our frames are made of factory welded, powder coated, rust proof, heavy gauge aluminum. No Steel. No Rusting. No Assembly Required.
Antique Brown All Weather Resin Wicker Furniture. Our Antique Brown color synthetic wicker is multi toned. Each strand has lighter tones (milk chocolate) on one side and darker tones (dark chocolate) on the other side. We selected this color combination as we felt while we know it is synthetic wicker it resembles natural wicker better than most. It is a very popular color. We use (2) different shaped strands of wicker. The first being the round strands that most people are familiar with. The second is a flat wicker that is wrapped around the the frame & the legs. The darker colors are most visible on the legs because they are wrapped instead of woven. Clean or hose your furniture & it will stay nice.
Our Synthetic Wicker...we use Quality HDPE—High Density Polyethylene Synthetic Wicker & plenty of it. The synthetic wicker is then hand woven and hand tied over our frames. The feel is soft and smooth with no protruding ends. The resin is dyed all the way through & loaded with UV protectors.
Our Tables...The glass tops on our tables are inset and secured underneath so they cannot blow off the top of the tables. Our tables have lower shelves. More attractive & more functional.
We Give You More Size & Comfort....check the measurements. If you want a full size Sofa (86" wide) deep seated ( 38.5" deep) and high backed (40"high ) we have it for you. It costs a little more to make the larger frames and the larger cushions, but you will be comfortable. Our seat cushions are 26" deep & 24" wide. We make them so they over hang the front of the frame a little. This means the back of your legs will rest against cushion not frames. Our Palm Springs love seats & chairs are made the same way.
Spun Polyester Fabrics..our sets include the seat & back cushions We offer about 40 different Spun Polyester Fabrics all at the same price. Spun polyester synthetic fabrics are nonporous so they do not accept dye like a regular cotton fabric. When the fabric mill puts the colors on they have to do what is called a "silk screening process" The dye sets on top of the fabric. The dye does not go all the way through. These fabrics are good for indoors or covered outdoor areas. They will fade in sunlight.
Sunbrella Fabrics...We also offer lots of different Sunbrella Fabrics. Sunbrella fabrics cost more $ per yard but are worth it for sunny areas. Sunbrella fabrics are made of Acrylic fibers. Sunbrella soaks & dyes each individual thread of fabric BEFORE they weave it into yards. This is called a "dyed solution process" & is known to be amongst the most fade, stain & mildew resistant fabrics available.
Our American Made Cushions are filled with a 5"block of densified polyurethane foam. The foam is covered top & bottom with nonporous dacron. The total thickness is 5.5" to 6". These are quality zippered cushions. Our back cushions are filled with non porous poly fibers. They are initially filled to about 6" or 7" thick. When you lean back they are soft & comfortable. The height of our seat cushions from the floor to the top of our cushions in the front is about 19".
Style....along with the deep seating & high backs please notice the beautiful wide arms (each arm about 6" wide). Look at the bottom of the legs under the arms. We start the solid weaving there & go up the arms & over the top above the back cushions. Look at the beautiful scalloping along the bottom of the frame. Combine this with the open lattice weaving that you see on the front, sides & backs of the frames and you have a really great look. Palm Springs is a beautiful, comfortable, very well made set.
Order online or Call us and we will assist-1-800-274-8602. Six days a week.
Free Shipping..our prices include Curbside Delivery to most locations in the 48 states. Our deliveries are made in 18 wheeler trucks that must be able to drive onto & away from your delivery address.
White Glove delivery....if you want your furniture carried in, setup with all cardboard & packing materials removed where we can arrange. We use professional furniture delivey services for this & they charge more, but we love the service. Prices depend on quantities & location. Call us. 1-800-274-8602--press 0.