Belair Resin Wicker Rockers, Antique Brown
As low as
$459.95
Regular Price
$499.00
We Accept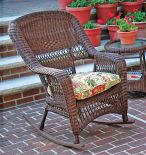 Belair Resin Wicker Rockers, Antique Brown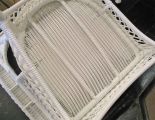 Belair Resin Wicker Rockers, Antique Brown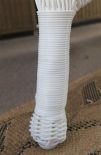 Belair Resin Wicker Rockers, Antique Brown
Bel Aire Outdoor Resin Wicker Rockers.
31" wide x 36" deep x HT 39"
Important..we are oversold on our White, Antique Brown & Golden Honey Rockes. Production is almost compete & we hope to have them in November. Better dates on these as we get closer. Contact us. We will save some for you.They are going fast. There are no charges now.
Our Rockers Have Aluminum Runners!
Indoor/Outdoor All Weather Wicker Resin Patio Furniture
Our Bel Aire Resin Wicker Rockers have factory welded aluminum frames with---HDPE--High Density Polyethylene hand woven over them. No asembly required. The only thing you have to do is turn the rocker upside down, pop the runners on the legs & put 1 screw--comes with it--in through the bottom of the runner & up into each leg. Our rockers are light weight, stackable--with the runners off-- and store easily. Normally leaves our facility within in 5 busines days depending on seasonality.
We Give You More...the normal seat size for a wicker chair is 18" x 18" We make ours about 19.5" wide x 22" deep. Take a close look at the frames. They are high backed & wide armed with a beautiful open weave. We give you plump beautiful cushions that have one center button tuft and center front piping.
Fabrics..Our Cushions are all American Made. Our sets come with your choice of over 40 different Spun Polyester Fabrics all at the same price. They are very good for indoors & well covered outdoor areas. They will slowly fade in sunlight. We also offer about 90 different Sunbrella Fabrics. Sunbrella Fabrics cost more $ per yard as they are known to be amongst the most fade, mildew & stain resistant. You will see the the additional costs when selecting your Sunbrella Fabrics. We feel they may actually cost less over time.
Why Sunbrella Fabrics cost more..Sunbrella dyes each & every thread of fabric in a "dyed solution process" BEFORE they weave it into yards. This coats & soaks the color onto every thread. This is why outdoor awnings, materials on boats & outdoor furniture cushions made with Sunbrella Fabrics are a very popular choice.
We offer Free Curbside Delivery to most locations in the 48 states. Our deliveries are made in 18 wheeler trucks that must be able to drive onto & away from your delivery address.