Rattan Dining Sets 36" Round Teawash Coronado Style (2 Cushioned Arm Chairs (2) Sides)
As low as
$1,399.00
Regular Price
$1,549.00
We Accept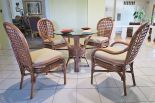 TEA WASH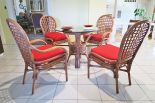 WITH SP-3613 FABRIC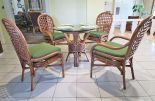 WITH SP-3263 FABRIC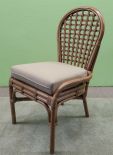 CORONADO SIDE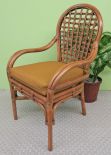 CORONADO ARM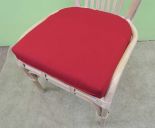 SP-3613 FABRIC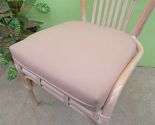 SP-803 FABRIC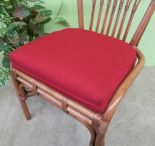 SP-3613 FABRIC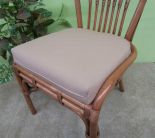 SP-803 FABRIC
SP-803 FABRIC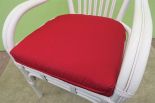 SP-3613 FABRIC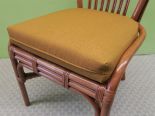 SP-3551 FABRIC
Shown in Teawash with SP-803 Fabric
Also Available with your choice of fabrics:
Blue, Gold, Olive and Red.
Set Includes:
(1) Rattan Table Base
(1) 36" Round 1/2" Thick glass top
          with a  1" Bevel
(2) Coronado Dining Arm Chairs with Cushions
          24" x 25", Ht. 39"
(2) Coronado Dining Side Chairs with Cushions
          21 1/2" x 25 1/2", Ht. 39"
Everyone loves our Coronado 36" Round Natural Rattan Dining Sets. The chairs are made of sturdy pole rattan with lots of bracing for strenght & beauty. Our chairs are stackable & house 3" + thick zippered foam cushions. Please notice how we build a "horseshoe" of rattan around the seat area. This holds the cushion in place & allows for them to be reversable.
Our Table Base....We use extra rattan poles to make our table bases really strong.
Glass Tops...our Coronado Dining Sets all come with 1/2" thick glass tops with a 1" bevel. We give you quality products.
Packing...We pack 2 chairs with cushions in a carton--our table base in another carton & a very well wrapped & packed glass top in another carton.The glass is thick & becomes heavy, especially with our larger glass tops.
Options...as you can see we show this set with 2 Dining Arm Chairs & 2 Dining Side Chairs. If you wish to have 4 sides or 4 arms we are happy to do that for you. We will adjust the price up for all arm chairs--+$40 or down -$40 for all side chairs.  Please call us for personal service.
Normally ships out within 5-10 business days unless we have to make cushions--about 2 weeks.
We offer Free Curbside Shipping to most locations in the 48 states. Our deliveries are made in 18 wheeler trucks that must be able to drive onto &  away from your delivery address.
We are here to help 6 days a week---1-800-274-8602