Home

/

White Palm Springs Sofa and Loveseat Collections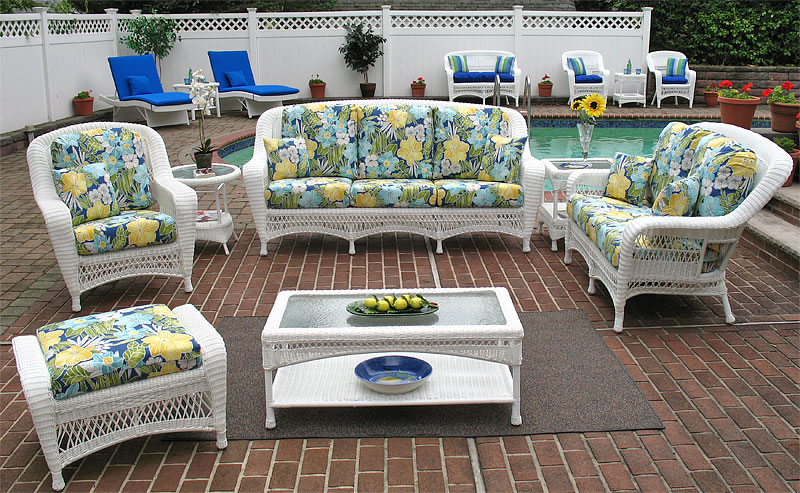 Wicker White Palm Springs Sofa and Loveseat Collections
Take advantage our Fabulous Group Priced Specials or make your own Group of 4 or more pieces and enjoy a 10% Group Price Discount. We offer FREE CURBSIDE Delivery to Most Locations in the 48 states.
About Our Outdoor Fabrics-----
All of our outdoor fabrics are fade resistant.

Floral & Striped Fabrics----
These fabrics must be in covered areas as they will fade faster in direct sunlight.

Solid Spun Polyester Fabrics-----
are more fade resistant than the florals & stripes, but will fade over time if they are in uncovered areas.

Sunbrella Fabrics---costs more per yard, but are the most fade resistant.
If you are putting your cushions in direct sunlight the additional cost for Sunbrella Fabrics is worth it as your cushions will stay brighter and fresher longer. .
Our Palm Springs Collection----is framed with factory welded, powder coated, rust proof, heavy gauge aluminum. There is NO ASSEMBLY REQUIRED. We use Quality HDPE—High Density Polyethylene---is then hand woven and hand tied over the frame. The feel is soft and smooth with no protruding ends. The resin is dyed all the way through & loaded with UV protectors. We offer over 50 different Spun Polyester Fabrics all at the same price. We also offer over 30 different Sunbrella Fabrics. They cost more $ but are worth it for sunny areas. We have Quality American Made Cushions. Call us and we will assist with these--1-800-274-8602.
The glass tops on our tables are inset and secured underneath so they cannot blow off the top of the tables.