White Veranda Outdoor Wicker Patio Furniture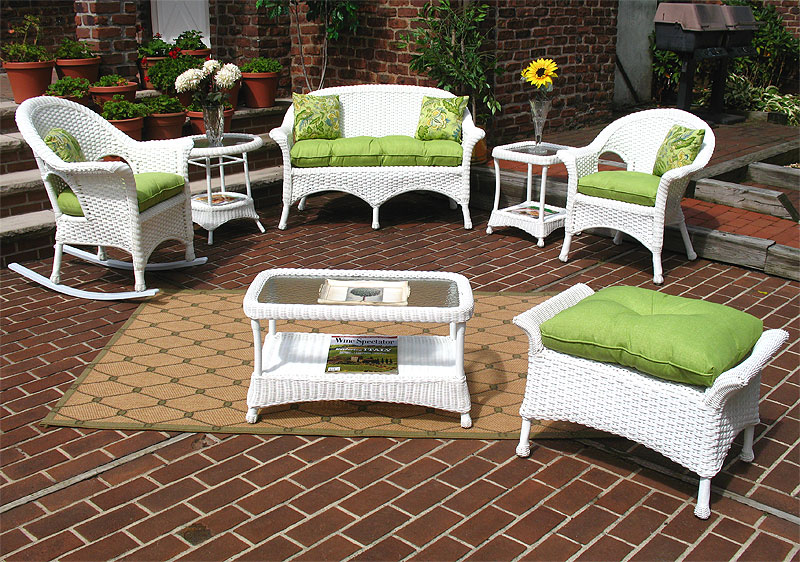 Scroll down to see a really nice selection.
White Veranda All Weather Resin Wicker Furniture. Our white synthetic wicker is bright white. It is nonporous so it does not absorb dirt. Any dirt is on the outer surface of the wicker. It should easily clean off. Clean or hose your furniture & it will stay nice.
Styling... our Veranda features arms that flair out to each side. Each arm is about 4" wide at the widest point in the front of the arm. The height on our chairs & love seats is about 32.5" from the floor to the top of the back. We combine 2 different weaves for this collection. The first wicker weave is called Classic wicker weaving. That is when one strand of wicker is woven under & strand next to it is woven over. This is the weave you are used to seeing. We use classic weaving starting on the leg bottoms and it goes up the arms & over the top of the chair back. The seats that are under the cushions also have classic weaving. To make the styling of our Veranda unique & interesting we use a different weave on the chair sides, fronts & backs. Four strands of wicker are grouped together. Four strands are woven under & 4 more are grouped & woven over. The combination of the two different weaves creates beautiful look & is very popular.
FYI--we also make the exact same Veranda Style in a High Back Version. The seats are a little wider & deeper & the height is about 38.5" from the floor to the top of the seat back. We use the same rocker high back rocker for both the smaller & larger sets.
Construction & Materials..These beautiful uplifting styles are unbelievable! They are extremely well made using the proven traditional methods of construction, but with modern synthetic materials. Our frames are made of heavy gauge, factory welded aluminum.
Our Synthetic Wicker is HDPE--high density polyethylene. You can google this to read about it. This material is loaded with UV treatment to resist fading. It is nonporous so water rolls right off of it. The wicker is hand woven & hand tied over the aluminum frames. The beginnings & ends of the weave are hidden underneath.These are quality products made the right way with good materials.
Cushions & Fabrics...our sets include seat cushions made from your choice of about 40 different spun polyester fabrics all at the same price. We also offer over 30 different Sunbrella Fabrics. Sunbrella Fabrics cost more $ per yard. Sunbrella Fabrics are known for being very fade, stain & mildew resistant. Sunbrella costs more now, but we actually feel they become less expensive over time. We feel the same way about our furniture.
Comfort..we give you more. Please notice the width & depth of our seat areas. Lots of wicker chair seat areas are 18" x 18". We make ours Veranda about 19" x 20". Our quality synthetic wicker is softer and has a little "give" to it. It is better to lean back against.
Their Life Span..everything written above is absolutley correct, but we still must use common sense. Extreme heat will soften the synthetic wicker & allow it to stretch out. Do not be afraid to hose your furniture down. It will keep it cleaner & cool it off. Your "cigar ashes" may burn a hole & allow the wicker to start unraveling. If your furniture gets blown around in a storm you may dent or crack the wicker. If your furniture is outdoors there is the neighbors cat, the squirrels & lots more. We are doing this since 1978 and have lots of wicker furniture all over the country doing very well. If you have normal use & weather conditions you will get more than your monies worth. Kind of like everything else. Take care of your stuff & it will look better & last longer.
We offer free curbside shipping to most locations in the 48 states. Our deliveries are made in 18 wheeler trucks that must be able to drive onto & away from your delivery address.