Belaire Resin Wicker Conversation Set (1) 24" High Table (4) Chairs
As low as
$1,999.95
Regular Price
$2,199.00
We Accept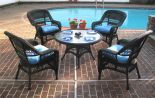 BLACK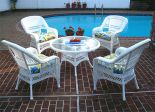 WHITE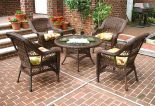 ANTIQUE BROWN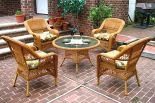 GOLDEN HONEY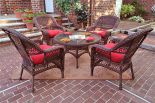 ANTIQUE BROWN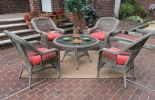 DRIFTWOOD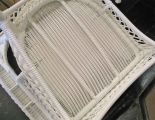 CHAIR BOTTOM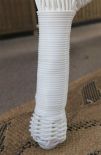 WOVEN LEG DESIGN
Shown in Golden Honey
also Available in Black , Driftwood, White and Antique Brown.
Set Includes:
(4) Bel Aire Resin Wicker Chairs with Cushions
31" X 29", Ht. 39"
(1) 42" x 24" Ht. Conversation Table with umbrella hole.
Important..it is so busy product availability is changing quickly that we cannot keep up with web site information. After you place your order if we cannot fill it you will be contacted. We DO NOT charge anyone without having the product to ship.
Please Note: The Height of the Conversation Table (24") is Lower than a Dining Table (30") but Higher than a Cocktail Table (19").
Our Bel Aire Resin Wicker Conversation Sets are made of heavy gauge, powder coated, factory welded aluminum. No steel. No rusting.
Our Synthetic Wicker...is quality HDPE--high density polyethylene wicker woven over the frames. This is a very good quality synthetic wicker that is dyed all the way through & is loaded with UV protectors to resist fading. Our Chairs are stackable & there is no assembly required. Our 24" High Conversation Tables are made the same way, but you must attach the table top to the table base. Just turn the top upside down, place the base on top of & put the 4 bolts into the fittings. Very easy, very strong. FYI--we do not attach the table tops because we must over pack the glass tops so they are not broken during the delivery process.
Fabrics...Our cushions are American made & we offer about 40 different Spun Polyester Fabrics all at the same price & lots of different Sunbrella Fabrics. Sunbrella fabrics are known to be the most fade, stain & mildew resistant. Our cushions start off about 5" thick & with use spread out & compress down to about 4".
Quality Construction..please look at the pictures on the lower left hand side. We show the underneath of our seat area. See how we put slightly curved aluminum poles under the seat. These poles insure that with normal sitting the chair seats are able to accommodate your body weight today & over the long run. No straps. No sagging.
Our chair legs...see how our chair frames are made with a good size aluminum poles. We wrap extra synthetic wicker around the leg bottoms and put a very attractive weave on the feet themselves. Please notice the nice sized texture of the wicker. This keeps things strong, beautiful & in place. Things like this indicate a better quality product.
Our Chair Arms...we make them about 5" wid. They provide a sturdy, comfortable place to rest your arms.
MORE OPTIONS---want a lower table about 19" high--we also have round & oval cocktail or cofffee table that you can use instead of our Conversation Tables. Some customers use two end tables. They put them in between the chairs. Bottom line--tell us what you want & we will work up a price for you.
We have a large inventory & these sets normally ship out within 5 business days. Only busier times back things up a few more days. You would receive 4 cartons. 2 chairs in each box--the table top & the table base.
We offer Free Curbside Shipping to most locations in the 48 states. Our deliveries are made in 18 wheeler trucks that must be able to drive onto & away from your delivery address.