As low as
$359.95
Regular Price
$399.95
We Accept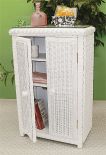 Wicker Linen Cabinet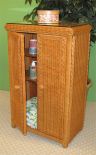 Wicker Linen Cabinet
Shown in White..
Also Available in Caramel.
22" x 13", Ht. 34"
Glass Top Available $35.00......Glass Tops provide a flat surface and protect the top from being scratched or chipped. They also prevent the dust from accumulating in the wicker weave on top. We recommend them.
Our Wicker Linen Cabinets are made with tried & true methods of furniture making. First we frame out our cabinets with good size pieces of mahogany wood. Then different textures of wicker are wrapped & hand woven over the frames. Our frames are stronger & we weave thicker textures of wicker than you would normally see.
Where to use them...these cabinets have many uses. Bedrooms, bathrooms, kitchens & some customers tell us they place their tv or micro wave on them.
We offer Free Fed Ex Shipping to most locations in the 48 states. Normally ships out within 3-4 business days.
You may also be interested in the following product(s)