Replacement Chair Cushion indoors & outdoors (Popular Size)
As low as
$79.95
Regular Price
$89.95
We Accept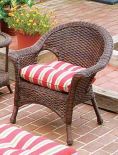 Replacement Chair Cushion indoors & outdoors (Popular Size)
You will love our replacement love seat & chair cushions. We take pride in how they are made. Our Cushions are designed with center front piping. Each chair cushion comes with a center button tuft ( love seats have 3 ). This holds the stuffing in place & holds the shape of the cushions. We initially stuff them to about 5" thick. With use they spread a little to conform to your seat area and compress down to about 4".
Reversible...our cushions are reversible. That keeps them looking better & lasting longer.
Value..The longer your cushions last the less expensive they are over time.
Our cushions have a 'U' shape meaning that they have a rounded back & a straight front.
Fabrics..The ones featured here are made from Spun Polyester & are designed for either indoor or outdoor use. Spun Polyester fabrics are durable, strong & are a very good value. Being a synthetic fabric they do not accept dye like a cotton fabric does. When the fabric mill places a floral or striped design on the fabric they have to do what is called a silk screening process. The colors lay on top of the fabric, but do not go through to the other side. These fabrics are fade resistant from glancing sun, but will fade in direct sunlight. If you are putting your cushions in a sunny area we reccommend having your cushions made from Sunbrella Fabric.
For cleaning just use a mild soap and water
Sizes....Each Chair Cushion is about 19" wide x 19"deep, & 4" Thick.
Time frame...we have lots of these chair cushions made and ready to ship. That means you may have them in 1 to 2 weeks depending on your location. If we are making cushions to order for you it can take from 2 to 5 weks depending on the time of the year. May & June are the busiest 2 months of the year.
To look at Sunbrella fabrics & prices arrow back and click on that section.
We offer Free Shipping to most locations in the 48 states.
.