Lane Venture Requisite Resin Wicker Sectional Collections, Macchiato Color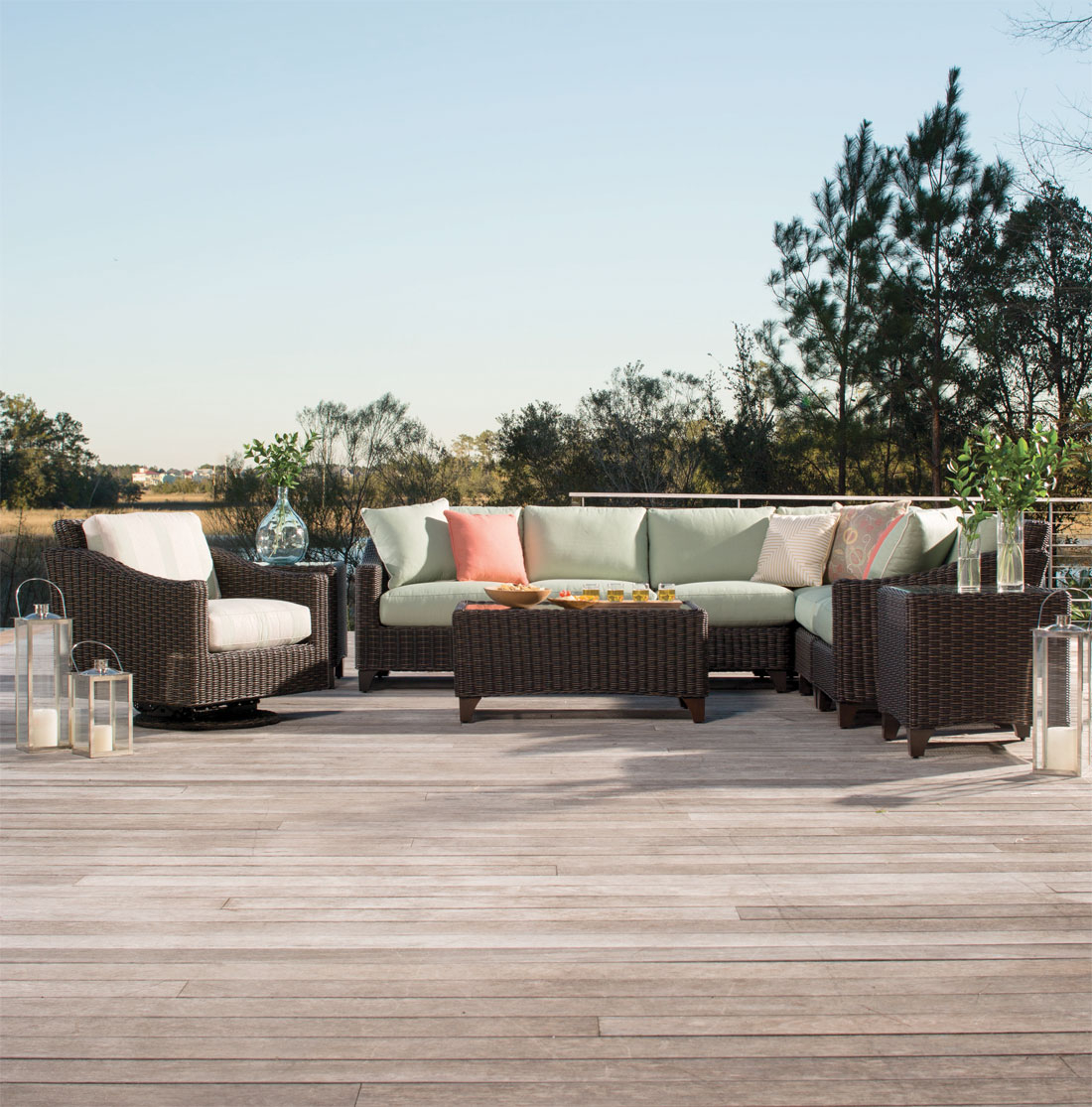 The distinctive styling of Requisite exudes understated elegance and comfort. Select from two finishes (Macchiato and Bone) to create an outdoor room uniquely your own.
We are the ultimate in outdoor resin wicker furniture luxury. Whether designing a personal retreat or a family gathering place, Requsite provides superior products with discerning details that are timeless and relevant for today's lifestyle. This design inspires people to create memorable outdoor spaces with confidence and style.
Begin your curated approach to any project by exploring our limitless fabric options. Having a peaceful outdoor retreat will always be in style. About Our Cushions
The single element that ties all of LANE VENTURE outdoor collections together is the unique drain-able cushion that combines a variety of features making it comfortable, functional, durable and easy to clean.
Prices.. like most national Manufacturers Lane has Minimum Prices that we are allowed to list online. We discount from these prices. Call us to receive a Price Quote. You will like our prices and our service. We have been selling and representing Lane Venture Wicker for over 25 years. 1-800-274-8602 press 0 -Monday -Friday 10 AM--3 PM EST. We do not email price quotes. Only via phone.

The Fabrics: the vast assortment of leading edge, stylish and exclusive fabrics will inspire you to create a look that's uniquely your own. What makes the WEATHERMASTER ULTIMATE OUTDOOR CUSHION better than all the rest? It combines the soft seating durability of drain-able all-weather fiber cushion with the comfort and longevity of spring coil seating FIBER IS ENCASED IN POLYETHYLENE NETTING Improves air flow for quick drying Minimizes the opportunity for mold and mildew growth
COILS ARE MADE OF 302 GRADE STAINLESS STEEL: This is the same grade that is used for high end grill and appliance construction 302 stainless steel offers better tensile strength than the more common 304 grade Maintains superior strength and performance year after year Will not rust or corrode; resistant to solvents, acids and chemicals Individually wrapped coils eliminate noise and allow coils to work independently THERMALLY BONDED PREMIUM QUALITY FIBER AND STAINLESS STEEL COILS ENCASED IN WATERPROOF TICKING PROVIDES Unsurpassed cushion comfort and durability High performance—great for using in high traffic areas Exceeds industry standards for cushion resiliency No substantial loss of loft, support or comfort after cycle tests