Rustic Brown Madrid Outdoor Wicker Patio Furniture (Chairs and Rockers have arrived)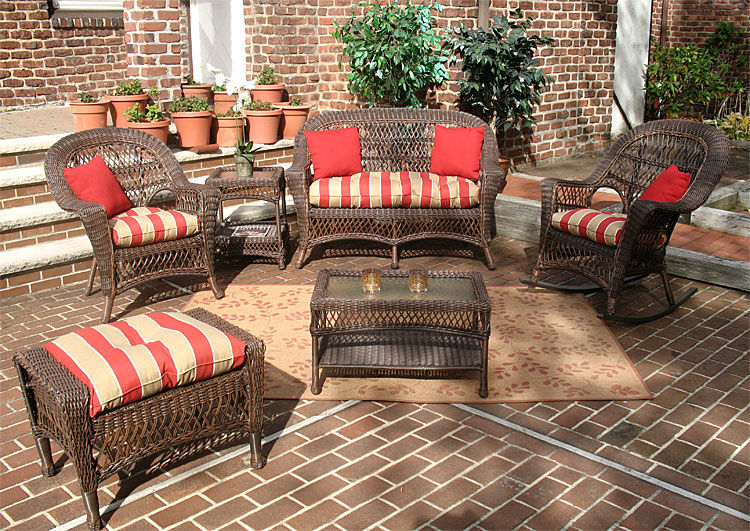 Madrid is our newest design.
Our Madrid Resin Wicker Furniture Sets have factory welded, heavy gauge Aluminum Frames. No steel. No rusting. No Assembly Required.
Synthetic Wicker...We use Quality HDPE---high density polyethylene synthetic wicker is hand woven over our frames.
Thicker Wicker...please know that because we designed our Madrid Collection with lots of open lattice work we used an even thicker texture of synthetic wicker to insure strength & durability. You will love Madrid. It is comfortable & well made.
Our Rustic Brown wicker color...starting from the legs, going up the arms & over the top is a solid dark brown color. The double spoke lattice work on the chair back are strands that are two sided. One side is "dark chocolate" & the other side "milk chocolate". We have done it this way as we feel it looks elegant, but yet as natural as possible with the multi tones. Everyone has really liked it.
Our Cushions... are all quality American made cushions. They have center front piping. We stuff them to about 5" thick. When you sit on them they spread a little with use & compress down to about 4" thick.
Cushions & Fabrics...our sets include seat cushions made from your choice of about 40 different spun polyester fabrics all at the same price. We also offer lots of different Sunbrella Fabrics. Sunbrella Fabrics cost more $ per yard. Sunbrella Fabrics are known for being very fade, stain & mildew resistant. Sunbrella costs more now, but we actually feel they become less expensive over time. We feel the same way about our furniture.
We Give You More...the seat size of most midsize wicker chairs is 18"x 18". We make our Bel Aire, Malibu, High Back Veranda & Madrid chairs about 19.5" wide x 21" deep. Our seat areas and cushions have straight fronts & rounded backs. We make the cushions about 1/2 " deeper than the chair seats so when you sit down the back of your legs lean against the cushion, not the chair frame. Our chair cushions have center front piping and one center button tuft. Love seats have 3 tufts. Please note the measurements of our chairs are a little larger & a little more comfortable. We Give You More!
We offer Free Curbside Shipping to Most Locations in the 48 states. Our deliveries are made in 18 wheeler trucks that must be able to drive onto & away from your delivery location.