St. Helena Rattan Furniture Sets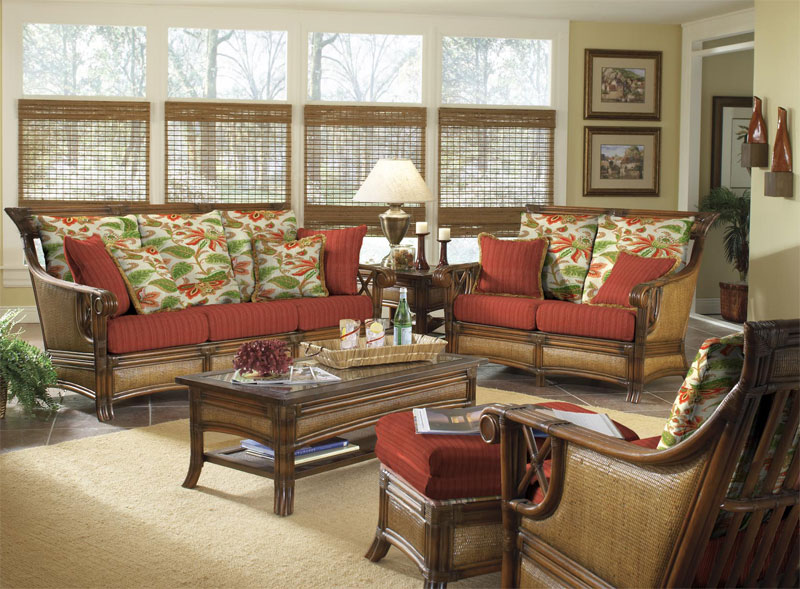 Scroll down to view our Fabulous Group Priced Specials or make your own Group by mixing 4 or more pieces & enjoy a 15% Discount.
Please call us to order 1-800-274-8602 press 0 Six days a week
Saint Helena
The style...Check out the rich, elegant design of St. Helena! Notice the padded front and side panels. There is actually a little foam under the rattan to give it this "padded" look. Please notice the wood trimmed cocktail and end table, both with inset glass and the very functional lower shelves.
Construction...this set has a very sturdy pole rattan frame featuring triple pole rattan arms. Please notice the "target design" below. Because of all of the rattan this set not only has good size it, but also has good weight to it.
Cushions...This set is high backed. Our photograph shows how you may also select coordinating fabrics on the seat and back cushions! If you wish to use 2 different fabrics please call us. There are lots of fabrics to select from.
Fabric Chart--The prices shown on all items are for Grade A Fabric.
When selecting a higher grade fabric please add...
Sofa-----------+$40 per grade
Love Seat----+$35 per grade
Chair---------+30 per grade
Ottoman-----+$20 per grade
Free Shipping! We normally offer free CURBSIDE DELIVERY to MOST LOCATIONS in 48 States.
White Glove Delivery...St Helena is a larger, heavier set so our prices include White Glove Delivery to most locations in the 48 states. This service includes in house setup with removal of all packing materials.