Sea Harbor Rattan Framed Natural Wicker Furniture Sets (Custom Paiting Available)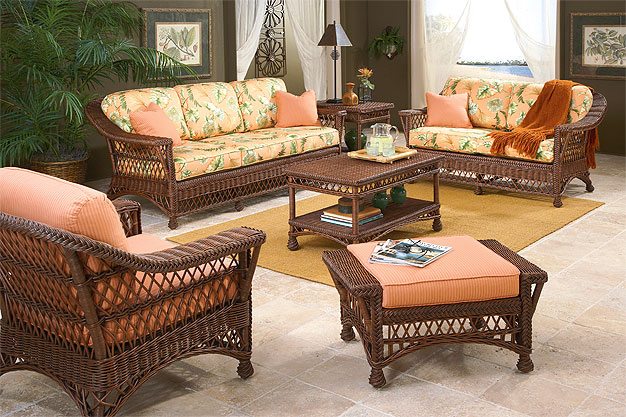 Scroll down to view our Fabulous Group Priced Specials or make your own Group by mixing 4 or more pieces & enjoy an 15% Discount.
***When you order your own group of 4 or more pieces we contact to review the exact pricing with your 15% factored in and an estimate for the delivery time. We do this BEFORE we charge you anything.
Fabrics..please know that fabrics marked OPP are Sunbrella Fabrics.
Our Sea Harbor Natural Wicker Furniture Set is really gorgeous & very versatile. It is available in Coffee or White & can be painted almost any Designer Colors +15%.
Production & costs...Sea Harbor costs more to make than most other designs. First a very sturdy pole rattan frame has to be made. The rattan poles have to be really thick as these frames are a generous size. After the frames are made there is a second step of weaving & wrapping smaller textures of rattan over the frame. Even these smaller pieces are thicker than most you will see. The frames are deep seated with wide arms that continue up over the top back of the frames. The American Made cushions are plush & of very good quality. Then the finishing is done. There is a lot of work & materials to make this style so it costs a little more. This is quality wicker furniture and 100% handmade. Amazing!
Where to use this furniture...Being natural it must used indoors or very well covered outdoor areas.
Life Span...with normal use & care these frames may last indefinetely. We are doing this since 1978 and our customers order new cushions from time to time as these frames have a long life.
Free Shipping. We offer free curbside delivery to most locations in the 48 states. Our deliveries are made in 18 wheeler trucks that must be able to drive onto & away from your delivery address.