Manchester Rattan Tilt Swivel Dining Chair with Casters (Minimum 2)
As low as
$699.00
Regular Price
$799.00
We Accept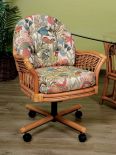 ANTIQUE HONEY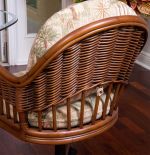 SIENNA CLOSE UP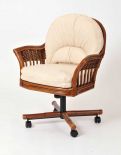 SIENNA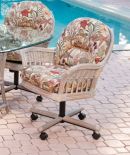 RUSTIC DRIFTWOOD
Shown in Rustic Driftwood also Available in Antique Honey and Sienna Frame Finishes.......28" x 26", Ht. 34"
Manchester Collection
The Manchester Caster Chairs are a very well made, comfortable chair. Select baby rattan is hand woven inside a reinforced pole rattan frame to provide quality construction. Marine plywood seats are united with complete wood screw construction in the rattan frame. The plush, tailored seat & back cushions create a captivating design of this enduring set. Lingering over meals will be a common occurrence.
Key Features...please take a close look at the seat area of the chairs. The frame is made of very sturdy rattan poles. On both sides of the seat area there are more rattan poles. Not only does this create beauty & more strength but it also keeps the seat cushion in place. The seat itself is outlined by a double rattan pole frame. The interior of the seat area is marine wood. Attached under the seat is a steel mechanism that tilts & swivels. The bottom part of the chairs are made of powder coated steel. The casters or wheels on the bottom are made of polyeurethane. They are known to be very good on both wood & tile floors. To be safe, if you have wood floors check the type of wood that you have to make sure it will not be dented by these wheels.
Important fact # 1...please look at the pictures on the left. See how we show 2 different style bases? The bases are made of steel--look at the legs--Then in the other picture you will see "faux" rattan covering the legs. That is how your chairs will arrive. With the 'faux" rattan on. You can slide them off if you like the look of the steel better.
Important fact #2...there is an adjustment handle under each seat. The seats can be raised as high as 24". When you raise raise the seats to 24" high they become the correct height to become Counter Stools.
Fabric Chart--The prices shown on all items are for Grade A Fabric. There are about 34 Grade A Fabrics all at the same price.
*When selecting a more expensive, higher grade fabric...Grades B + $39 per cushion or C + $65.
Packaging...each chair is individually boxed. There is no assmbly required
Free Shipping! We offer free curbside delivery to most locations in the 48 states. Our deliveries are made in 18 wheeler trucks that must be able to drive onto & away from your delivery address.
White Glove Delivery..we can arrange to most locations. Most east coast prices are around $150. Other locations & the west coast are a little more expensive.