Wicker Trunk Victorian Teawash Brown Woodlined
Special Price
$399.95
Regular Price
$450.00
We Accept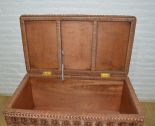 OPEN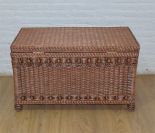 REAR, VIEW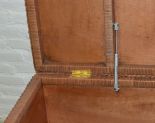 HYDROLIC LIFT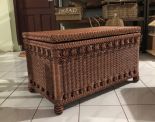 TEAWASH
Victorian Style Wood Lined Wicker Trunks.
Shown in Teawash Brown also available Whitewash and White.
37 3/8"x 21.5/8" x Ht. 21.25" ..
Victorian WoodLined Wicker Trunk..This is one of our brand new designs. This trunk is about 60lbs and has a "stay open" hydraulic under the lid.
Quality Construction.... the frames are made with mahogany wood & are very strong. Please notice the interesting work on the feet. This is truly a beautiful, well made trunk that you will enjoy for years to come.
The styling..Really Beautiful..76 Beads...please notice that the front, back, both sides & the lids of these trunks are fully woven. To create this look we use about 76 beads & "loop weaving" on each one. This adds a lot more labor in the weaving, but we love the look.
Inside Information..we have an entire matching bedroom collection that is in production right now. Hoping for March.
We offer free Fed Ex shipping to most locations in the 48 states.