Corner Wicker Bath Cabinet, White Wash
Special Price
$329.95
Regular Price
$369.00
We Accept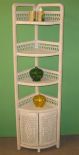 Corner Wicker Bath Cabinet, White Wash
Shown in Whitewash...also Available in
19" x 13", Ht. 60"
Our Corner Floor Shelf is framed out with wood. We also make the shelves from wood. Then we weave and wrap different textures of wicker over the frame so the furniture has the beautiful, warm look of wicker. They are 100% hand made and will add charm to where ever you place it. They have good weight and are made the right way. Everything is made at the factory. There is no assembly required.
FYI--there is a little more work (carpentry) involved to make the corner shape.
Use this floor shelf any place, but it does fit perfectly into right angle corners.
We offer Free Fed Ex Shipping to most locations.