(5) Piece Trinidad Dining Set with Tilt/Swivel Castered Dining Chairs
As low as
$2,769.00
Regular Price
$3,069.00
We Accept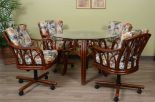 SIENNA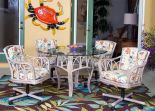 RUSTIC DRIFTWOOD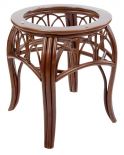 BASE
Shown in Sienna also Available in Rustic Driftwood.

Set Includes:
(1) Dining Table Base with Glass Top.
(We offer 5 different size Glass Tops.There is a Glass top "Options" Box on the upper right hand side that lists the sizes and prices.)
(4) Rattan Dining Tilt Swivel Castered Chairs with Cushions.
25 1/2" x 25", Ht. 34"

The Trinidad Collection has a classic clean style that is open and airy, featuring rustic rattan poles bound with leather and upholstered seat cushions. Adjustable tilting mechanisms make each chair a custom fit for every user. So many options; perfect for open floor plans with compatible dining sets, bar and counter groups and occasional tables.
Key Features...please take a close look at the seat area of the chairs. The frame is made of very sturdy rattan poles. On both sides of the seat area there are more rattan poles. Not only does this create beauty & more strength but it also keeps the seat cushion in place. The seat itself is outlined by a double rattan pole frame. The interior of the seat area is marine wood. Attached under the seat is a steel mechanism that tilts & swivels. The bottom part of the chairs are made of powder coated steel. The casters or wheels on the bottom are made of polyeurethane. They are known to be very good on both wood & tile floors. To be safe, if you have wood floors check the type of wood that you have to make sure it will not be dented by these wheels.
Packaging... each chair is fully assembled and comes packed one to a carton. There is no assembly required. The table base is also fully made and is packed in one carton. Lastly, the glass top is also packed separately.
Cushions & Fabrics...There are about 34 different Grade A fabrics to select from all at the same price. We also more expensive Grades B +$39 per chair & C +$59 per chair. The cushions set right into the seat area & are reversible. The cushions are zippered. They are filled with 3" thick polyurethane foam & wrapped with dacron.
Packaging...each chair is individually boxed. The table base is also in 1 box and the glass top is also separately boxed. There is no assembly required.
Important...after being cartoned this dining set is loaded onto a pallet a shrink wrapped to hold everything in place. When being delivered the pallet will be lowered from the back of the truck onto the ground. This is done to insure safe delivery of the products. The customer must then remove the furniture from the boxes and bring it where they want it. The customer must dipose of the pallet.
White Glove Delivery..we can arrange to most locations. Most east coast prices are around $175. Other locations & the west coast are a little more expensive.