4 Piece Belair Resin Wicker Furniture Set (1) Love Seat (1) Rocker (1) Chair (1) Coffee Table
As low as
$1,329.00
Regular Price
$1,479.00
We Accept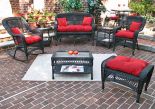 BLACK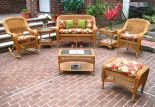 GOLDEN HONEY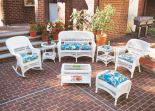 WHITE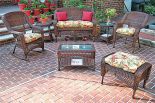 ANTIQUE BROWN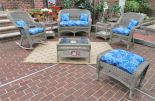 DRIFTWOOD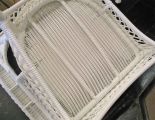 CHAIR BOTTOM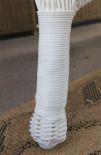 WOVEN LEG
Shown in Driftwood in Fabric SP--3761...Also Available in Black, White, Golden Honey and Antique Brown.
Important..it is so busy product availability is changing quickly. After you place your order you will be contacted. We DO NOT charge anyone without having the product to ship.
Set Includes:
(1) Loveseat with Cushion
53" X 29", Ht. 39"
(1) Chair with Cushion
31" X 29", Ht.39"
(1) Rocker with Cushion
31" X 32", Ht. 41"
( 1) Cocktail Table
30" X 18 1/2", Ht. 18"
Throw Pillows can be purchased separately on our web site under..Replacement Cushions. 12" & 15"
Our Bel Aire Resin Wicker Sets have heavy duty, factory welded Aluminum Frames. No steel. No rusting. No ssembly required.
Our Synthetic Wicker..is quality HDPE---high density polyethylene that is hand woven over our frames. You can google HDPE to read about why it is a better product.
Attaching our rocker runners...Only our rocker runners have to be screwed on. Turn the rocker upside down. Pop the runners on & put 1 screw..included.. in through the runners & up into the bottom of each leg. If we attach them here because they stick out they have a greater chance of being damaged during the delivery.
Fabrics...our sets include your choice of about 40 different spun polyester fabrics all at the same price. We also offe lots of different Sunbrella Fabrics. Sunbrella Fabrics cost more $ per yard, but are known for being the most fade resistant. Best for sunny areas. Sunbrella costs more now, but may be less expensive over the long run.
Why Sunbrella Fabrics cost more..Sunbrella dyes each & every thread of fabric in a "dyed solution process" BEFORE they weave it into yards. This coats & soaks the color onto every thread. This is why outdoor awnings, materials on boats & outdoor furniture cushions made with Sunbrella Fabrics are a very popular choice.
We Give You More...the seat size of most midsize wicker chairs is 18" x 18". We make our Bel Aire, Malibu, High Back Veranda & Madrid chairs about 19.5" wide x 21.5" deep. They come with a Quality American Made Cushion that starts off 5" thick and spreads & condenses down to about 4 " with use. Our seat areas and cushions have straight fronts & rounded backs. We make the cushions about 1/2 " deeper than the chair seats so when you sit down your legs lean against the cushion, not the chair frame. Our cushions have center front piping and one center button tuft. Please note the measurements of our chairs. They are a little larger, a little more comfortable. We Give You a better product!
Quality Construction..please look at the pictures on the lower left hand side. We show the underneath of our seat area. See how we put slightly curved aluminum poles under the seat. These poles insure that if you sit normally the chair seats are able to accommodate your body weight today & over the long run. No straps. No sagging.
Our chair legs...see how our chair frames are made with good size aluminum poles. We wrap extra synthetic wicker around the leg bottoms and put a very attractive weave on the feet themselves. Please notice the nice sized texture of the wicker. This keeps things strong, beautiful & in place. Things like this indicate a better quality product.
Our furniture arms.. are about 5" wide. They provide a sturdy, comfortable place to rest your arms.
We offer Free Curbside Shipping to Most Locations in the 48 states. Our deliveries are made in 18 wheeler trucks that must be able to drive onto & away from your delivery location. Our normal shipping time is about 1 week depending on seasonality.