Whitecraft by Woodard Sommerwind Wicker (5) Piece Dining Set
We Accept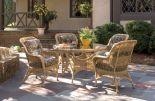 Whitecraft by Woodard Sommerwind Wicker (5) Piece Dining Set
Set Includes:
(4) Party Chairs
29" x 30", Ht. 37"
(1) 48" Dining Table with Glass Top 48" Diameter x 29" Ht. 29"
Please Note: Pristine White Finish is a Special Order Frame Finish with a 16-20 Week Time Frame. Also, the fabric shown in this picture is a Discontinued Fabric.
Sommerwind is a very popular collection that offers seating, dining, glider chairs & glider love seats. Please select from Bright White, Natural Honey Brown and Chocolate Brown. Please know that we always use Aluminum Frames and High Density Synthetic Wicker.
Call Us----1-800-274-8602
Our Prices will put a Smile on your face!
Monday-Saturday 9 A.M.-4:30 P.M.

About Our Outdoor Fabrics-----
All of our outdoor fabrics are fade resistant.

Floral & Striped Fabrics----
These fabrics must be in covered areas as they will fade faster in direct sunlight.

Solid Spun Polyester Fabrics-----
are more fade resistant than the florals & stripes, but will fade over time if they are in uncovered areas.

Sunbrella Fabrics---costs more per yard, but are the most fade resistant.
If you are putting your cushions in direct sunlight the additional cost for Sunbrella Fabrics is worth it as your cushions will stay brighter and fresher longer. .