Whitecraft by Woodard Saddleback (7) Piece Circular Sectional with Cushions
We Accept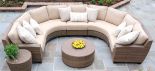 Whitecraft by Woodard Saddleback (7) Piece Circular Sectional with Cushions
Set Includes:
(2) Armless Circular Sofa with Cushions
88" x 38", Ht. 32"
(1) Left Arm Lounge Chair with Cushions
35" x 38", Ht. 32"
(1) Right Arm Lounge Chair with Cushions
35" x 38", Ht. 32"
(1) Armless Chair with Cushions
29" x 38", Ht. 32"
(1) Round Cocktail Table
36" Diameter, Ht. 18"
(1) Round End Table
24" Diameter, Ht. 22"
Throw Pillows Not Included.
Saddleback has gone Circular! You can now add any of these circular modular pieces to the rectangular sectional or the full size sofa and love seats. The softly curved design with plush upholstery will give you years of pleasure indoors or outdoors.
Call Us----1-800-274-8602
Our Prices will put a Smile on your face!
Monday-Saturday 9 A.M.-4:30 P.M.

About Our Outdoor Fabrics-----
All of our outdoor fabrics are fade resistant.

Floral & Striped Fabrics----
These fabrics must be in covered areas as they will fade faster in direct sunlight.

Solid Spun Polyester Fabrics-----
are more fade resistant than the florals & stripes, but will fade over time if they are in uncovered areas.

Sunbrella Fabrics---costs more per yard, but are the most fade resistant.
If you are putting your cushions in direct sunlight the additional cost for Sunbrella Fabrics is worth it as your cushions will stay brighter and fresher longer.