Whitecraft by Woodard Saddleback (4) Piece Sectional with Cushions
We Accept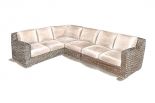 Whitecraft by Woodard Saddleback (4) Piece Sectional with Cushions
Set Includes:
(1)Left Arm Loveseat with Cushions
63" x 38", Ht. 32"
(1)Right Arm Love Seat with Cushions
63" x 38", Ht. 32"
(1) Armless Chair with Cushions
29" x 38", Ht. 32"
(1) Corner Unit with Cushion
38" x 38", Ht. 32"
Throw Pillows Not Included.
Saddleback is available as a Sofa & Love Seat and also as a Modular Sectional that you may customize to your desired size. Please know that this elegant blended mocha finish reflects light and dark tones. The frame is made of Aluminum with High Density Polypropylene woven over it.
Call Us----1-800-274-8602
Our Prices will put a Smile on your face!
Monday-Saturday 9 A.M.-4:30 P.M.

About Our Outdoor Fabrics-----
All of our outdoor fabrics are fade resistant.

Floral & Striped Fabrics----
These fabrics must be in covered areas as they will fade faster in direct sunlight.

Solid Spun Polyester Fabrics-----
are more fade resistant than the florals & stripes, but will fade over time if they are in uncovered areas.

Sunbrella Fabrics---costs more per yard, but are the most fade resistant.
If you are putting your cushions in direct sunlight the additional cost for Sunbrella Fabrics is worth it as your cushions will stay brighter and fresher longer. .