Orchard Park Rattan Dining Set 42" Square Round Glass (Custom Finishes Available)
As low as
$3,929.00
Regular Price
$4,369.00
We Accept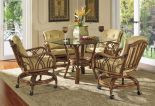 Orchard Park Rattan Dining Set 42" Square Round Glass (Custom Finishes Available)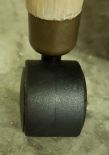 BLACK CASTER DETAIL
The Orchard Park Rattan Dining Sets with Casters are Available in the Frame Finishes of Barbados, Cane, Clove, Desert, Driftwood, Harvest, Pearl, Pecan, Rivawood, Sandalwood & Toast. All at the same price. White is also available, but there is much more work to achieve a quality white finish. For our White finish please add $199 for all 4 chairs & the table base. These finishes are applied to order.
Click Here To View Frame Finishes
Set Includes:
(4) Castered Dining Arm Chairs
     24" x 27", Ht. 34"
(1) 3/8ths thick 42" Square Glass with Rounded Corners 1" Bevel x Ht. 29"
Important.. we are now using the black caster (wheel) shown in the picture on the left hand side. This is a better quality wheel than the one with the metal "hood" that is shown in the group picture.
Fact$ about Orchard Park.. we want you to understand what you are payng for. Please see the design on the top of the chair backs. This design calls for indiviudual parts to be made, (eg-the top corners) then attached and w then leather wrapped to cover ther attachments. The seat cushions have box piping on them. The back cushions have center piping. Each chair is custom finished to your choice of available frame colors. Each chair arrives to you fully asembled with the wheels on in its own indivuidual box. This is quality furniture that you will enjoy for years to come. All of this costs a little more.
Order online or Please call us ..1..800-274-8602 press 0. Six days a week.
Important...These Swivel Chairs have a "memory " feature. They return to the foward position.

They can also come with a mechanism that rocks--+ $25 per chair.
Also available in 45" Square Round +$100
Also Available 48" SQUARE Round +$125
More Options..besides the custom finishes & fabulous fabric selection we also offer this set with a 54" round glass top that is 1/2" thick and has a 1" bevel. With the glass top being larger & thicker it is much heavier so we have to use a different style, stronger table base. If this interests you we will send you pictures and work personally with you on the phone. This includes curbside delivery. 
Our Orchard Park Natural Rattan Dining Set boasts Casual Elegance! Please notice the sturdy pole rattan frame.  that houses both seat & back cushions. This is very well made quality furniture at a fantastic value.
Available in Over 150 Fabrics.
Fabric Chart--The prices shown on all items are for Grade A Fabric.
When selecting a more expensive, higher grade fabric...Grades B, C or D
please add +$80 per grade
Free Shipping! We offer free curbside delivery to most locations in the 48 states. Our deliveries are made in 18 wheeler trucks that must be able to drive onto & away from your delivery address.
White Glove Delivery..we can arrange to most locations. Most east coast prices are around $150. Other locations & the west coast are a little more expensive.