Oceanview Rattan Sleeper Sofa (Custom Finishes Available)
As low as
$2,199.00
Regular Price
$2,450.00
We Accept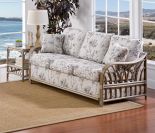 Oceanview Rattan Sleeper Sofa (Custom Finishes Available)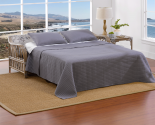 OPEN
Our Oceanview Rattan Sleeper Sofa is Available in the Frame Finishes of Barbados, Cane, Clove, Desert, Driftwood, Harvest, Pearl, Pecan, Rivawood, Sandalwood and Toast. White is also available, but there is much more work to achieve a quality white finish.
For White please add $180.
Click Here To View Frame Finishes
(1) Sleeper Sofa with Cushions
79" x 35", Ht. 36"
(2)Throw Pillows Included with the Sleeper Sofa.
Available in over 150 fabrics.
Click Here To View Fabrics
Our Prices are for Grade A Fabrics when selecting a more expensive fabric please add $96 per grade.
Our Oceanview Natural Rattan Sleeper Sofa Boasts Casual Elegance! Please notice the sturdy pole rattan frame high that house both seat & back cushions. This is quality rattan furniture that is very well made & at a fabulous value.
Product information..this sleeper is made the same way upholstered furniture is made. It has a wooden frame and is covered with fabric. The sleeper unit is housed underneath the seat cushions. The unit is a top of the line Leggit & Platt mechanism. It folds out a second & third time. The unit itself is 78" long. It houses a 5" inner spring mattress. This is great for the occasional use that sleepers normaly have. After everthing is made the rattan arms are attached. So this is really a regular top of line upholstered sleeper unit that has rattan arms to make it beautiful.
Commercial Use....If you have a rental unit and your sleeper may have daily use we recommend commercial grade unit that houses a 6" inner spring mattress. This unit & mattress cost + $150
Order online or Please call us..1..800-274-8602 ...press 0..Six days a week.
White Glove Delivery..Our prices include in house setup for sleeper sofas. They are just too large & heavy for most people to handle. We hire a professional furniture delivery service to bring your sleeper in & set it up. All packing materials are removed. Addresseses west of the Mississippi may cost a little more as truckers charge more more deliver there. Call us for an exact price quote for your more distant address.