Monte Carlo Upright Mirror (Not Sold Alone)
As low as
$449.00
Regular Price
$499.00
We Accept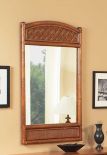 Monte Carlo Upright Mirror (Not Sold Alone)
The Monte Carlo Bedroom Pieces are Available in the Frame Finishes of Barbados, Cane, Clove, Desert, Driftwood, Harvest, Pearl, Pecan, Rivawood, Sandalwood & Toast. All at the same price. White is also available, but there is much more work to achieve a quality white finish. For our White finish please add $40 for the Upright Mirror.
Click Here To View Frame Finishes
(1) Monte Carlo Mirror
      30" x 2", Ht. 47"

Welcome to our Monte Carlo Bedroom Collection.
The Design…is understated elegance. After the wooden frames are made the weavers go to work to create a beautiful look. The sides and trim above the drawers is done in a solid lattice design. The drawer fronts have a smaller textured, cane like appearance. The wooden tops offer a classic, upscale look that will enrich any room from your master bedroom to your guest room.
Custom Finishing..all of the finishing is done right here in the USA. This is quality finishing. All items on your order go into the finishing room at the same time so you can be assured they all match very well. You may choose from 10 different frame colors all at the same price. Only the White color costs a little more because there are more steps and labor to create a white color that will stay white and be very chip resistant.