Caribbean Corner Unit Modular Chair
We Accept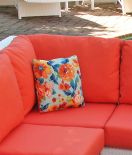 WHITE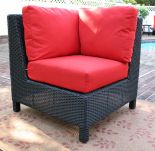 BLACK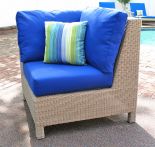 DRIFTWOOD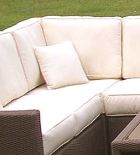 COFFEE BROWN
Shown in Coffee Driftwood. Also Available in Coffee Brown Black and White.
34 1/4" x 34 1/4", Ht. 34 5/8"..not sold alone.
Design your own! Our Caribbean Sectionals are skillfully made. Each modular unit is raised from the floor for a light airy look. The chair backs are angled back for extra comfort. Combine any combination of units to fill your space Each table offers a lower shelf because we know that is what you like.
All of our Cushions are made with Outdoor Spun Polyester Fabric or Optional Sunbrella Fabrics for an up-charge.
Please call 1-800-274-8602 for a Price Quote.
Our Caribbean Modular Sectional: has an aluminum frame with synthetic wicker -- HDPE—high density polyethylene--- hand woven & hand tied over it. We designed the frames in Black, White Driftwood & Coffee Brown
How We make Our Furniture Better
*We use heavy gauge aluminum for our frames.
* We weld the frames at the factory.
*There is no assembly required.
*Our chair backs are high enough to house and support Premium American Made Cushions.
*We use Quality—HDPE—high density polyethylene for our synthetic wicker.
*We raise the bottom fronts of our frames so the dirt does not gather at the foot of the frame.
*Our seat cushions Extend a little bit out over the front of our chairs so when you sit The back of your legs rest on cushion and not the frame.
*Our tables have bottom shelves. This gives a more functional, lighter more elegant look.
*Our glass tops are inset. No sliding off or blowing away.
*We use Smoked Glass for our Black & Coffee Brown Colors and we use Frosted Glass for our White & Driftwood colors.
*This gives a more elegant look and does not show every speck of dust like Clear glass does.
*Each modular unit comes with pop in pop out connectors So everything stays in place.
*We offer 50 different Spun Polyester Fabrics & over 30 Sunbrella Fabrics for sunny areas.
*Quality everywhere equals a better product.
Ships free with 4 or more pieces to MOST LOCATIONS in 48 States.