Bodega Bay (4) Piece Indoor Rattan Sectional Group
As low as
$5,199.00
Regular Price
$5,799.00
We Accept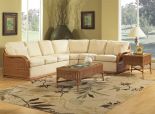 Bodega Bay (4) Piece Indoor Rattan Sectional Group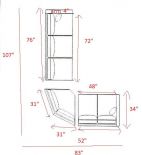 OVERALL DIMENSIONS
The Bodega Bay Rattan Sectional Sets are Available in the Frame Finishes of Barbados, Cane, Clove, Desert, Driftwood, Harvest, Pearl, Pecan, Rivawood, Sandalwood & Toast. All at the same price. White is also available, but there is much more work to achieve a quality white finish. For White please add $306 for all 4 pieces.
Click Here To View Frame Finishes
Set Includes:
(1) Right or Left Arm Sofa with Cushions
74" x 34", Ht. 32"
(1) Right or Left Arm Loveseat with Cushions
51" x 34", Ht. 32"
(1) Center Wedge with Cushions
41" x 33", Ht. 32"
(1) Rectangular Cocktail Table with Glass Top
48" x 23", Ht. 17"
(2) Throw Pillows Included with Complete Sectional.
Order online or Please call us..1..800-274-8602 ...press 0..Six days a week.
Our Bodega Bay Natural Rattan Furniture Sets Boast Casual Elegance! This is quality rattan furniture that is very well made & at a fabulous value.
The Finishing...is all being done here is the USA. Everything you order goes into the finishing room at the same time & is skillfully done.
Available in Over 150 Fabrics. Some fabrics cost more $ per yard then others. These fabrics are graded from A to D. Our prices are for Grade A Fabrics. When selecting a higher grade fabric please add $254 for each grade above A. This is for the entire 5 Piece Set.
Fabric Chart--The prices shown on all items are for Grade A Fabric.
When selecting a higher grade fabric please add...
Sofa-----------+$106 per grade
Love Seat----+$76 per grade
Wedge---------+$72 per grade